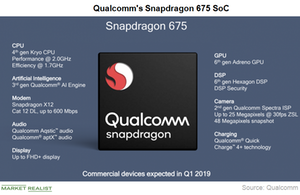 Why Is Qualcomm's Snapdragon 675 Chipset Important for Investors?
By Puja Tayal

Oct. 31 2018, Updated 4:20 p.m. ET
Qualcomm Snapdragon 675
Qualcomm (QCOM) is a leader in the premium mobile chipset market. It's now bringing premium smartphone features, such as high-quality mobile gaming, advanced camera functions, and advanced AI, to mid-range smartphones with its new Snapdragon 675 chipset. 
It's targeting the three main features that encourage consumers to buy premium smartphones.
Article continues below advertisement
AI personal assistant
According to a study by Verto Analytics, there are 169 million smartphone users in the United States, 72 million of whom have AI personal assistants in their phones. Of these 72 million users, 71 million, or 98.6%, use the AI personal assistant an average of ten times per month. By bringing an advanced AI personal assistant to mid-range phones, Qualcomm could increase the sales of these phones.
Mobile gaming
According to Newzoo, mobile gaming will account for 51% of global game revenue in 2018, and this number is expected to rise to 59% by 2021. With this, we can conclude that gaming is one of the key features smartphone users seek. Qualcomm has optimized its Snapdragon 675 for game engines such as Unity, Unreal, Messiah, and NeoX, and it also supports popular tools and APIs (application process interface) such as Vulkan, OpenGL 3.2, OpenCL, and Snapdragon Profiler.
AI-assisted camera
Qualcomm's Snapdragon 675 also features an AI-assisted camera that supports triple camera configuration. With this, the company looks to compete with Samsung (SSNLF) and Huawei, which also feature AI-assisted cameras in their mid-range phones.
Snapdragon 675–powered smartphones will hit the market in the first quarter of 2019. This should significantly boost Qualcomm's chipset revenue.
Qualcomm is also broadening its offerings to headphones. We'll look into this development next.