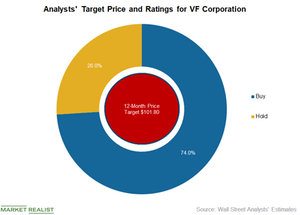 Why Analysts Recommend a 'Buy' for VFC
By Victoria Dean

Dec. 4 2020, Updated 10:53 a.m. ET
Rating synopsis
Of the 23 analysts covering VF Corporation (VFC) stock on October 12, 74.0% recommended a "buy," and the remaining 26.0% gave VFC a "hold" rating. VFC is a leading apparel manufacturer in the US. The company's brands include North Face, Vans, Timberland, Kipling, Lee, and Wrangler. Vans, North Face, and Timberland are the three biggest revenue drivers. In the first quarter of fiscal 2019, which ended on June 30, combined sales of these three brands accounted for 21% of overall sales.
Article continues below advertisement
By 2023, VF Corporation expects to deliver $5.0 billion in revenue from the Vans brand alone. Also, the company's international operations are gaining strong traction. In the first quarter, international revenue rose by 14% on an organic basis. However, the escalating selling, general, and administrative costs remain concerns. Also, the weak performing jeans business is adding to the company's woes.
For PVH (PVH), 80.0% of the 20 analysts covering the stock gave it a "buy" rating, while 15.0% have rated it as a "hold." Of the 15 analysts covering Hanesbrands (HBI), 40.0% gave it a "buy" rating, while 60.0% rated it as a "hold." About 43.0% of the 28 analysts provided a "buy" rating for Michael Kors (KORS), and another 54.0% rated it as a "hold."
Target price changes
On September 14, Cowen & Company upped the price target to $106.00 from $96.00. Currently, the analysts' 12-month average target price for VFC stock is $101.80, which reflects a 16.4% upside to the October 12 stock price.
On September 26, D.A. Davidson started coverage on PVH with a "buy" rating and a target price of $167.00. For PVH, the mean target price is $173.26, indicating a 37.5% upside.
There hasn't been a target price revision in the last 30 days for Hanesbrands. Hanesbrands' mean target price is $21.00, indicating a 28.4% upside.
On October 3, Citi raised its rating on Michael Kors to "buy." Michael Kors' 12-month average target price is $77.38, indicating a 21.7% upside.