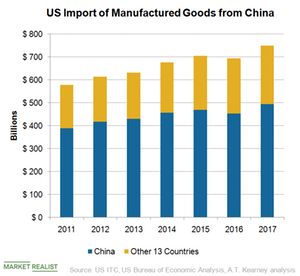 US–China Tariffs Could Hurt US Companies and Consumers
By Puja Tayal

Dec. 4 2020, Updated 10:53 a.m. ET
Correlation between tariffs and US manufacturing
In theory, tariffs are used to make imported goods costlier than domestic goods in order to encourage consumers to buy domestic goods. The United States imposed tariffs on Chinese (FXI) goods to make American goods cheaper and promote local business.
However, the reality has been different. The cheap Chinese labor encouraged most US tech firms to outsource the manufacturing or assembly of their products to China and then import the finished goods to the United States. The US tariffs would apply to components that chipmakers import from China to make the final chip or chips that are manufactured at their Chinese plants. These chips are exported to the United States.
Article continues below advertisement
Tariffs to hurt US companies and consumers
Many US companies and industry associations stated that they would end up paying tariffs on their own designed goods, increasing their costs. They can either absorb these costs or pass them to consumers. If these companies absorb the increased costs, this would hurt their margins. Passing these increased costs to customers would impact their sales volume, which would make US companies less competitive in relation to their overseas rivals.
Micron (MU) can't pass on the cost of these tariffs to customers, as it operates in a price-sensitive memory chip market where it competes with South Korea's Samsung (SSNLF) and SK Hynix. Samsung, a leader in the memory chip market, has a cost advantage over Micron in the DRAM (dynamic random-access memory) space. As a result, Samsung can offer DRAM at a lower price and still remain profitable.
According to a study by the CTA (Consumer Technology Association), tariffs on printed circuit board assemblies and connected devices would increase the price of Chinese goods by up to 6.0% and reduce consumption by 12.0%.
The Information Technology Industry Council stated that higher cost of tariffs would force companies to cut cost in other areas. These actions could include reducing production in the United States. These companies could also move production from China to another country where trade terms are favorable and labor is cheap. These actions could impact US jobs. Some economists fear that a year-long tariff could even put the United States in a recession. We'll look into this topic next.
Check out all the data we have added to our quote pages. Now you can get a valuation snapshot, earnings and revenue estimates, and historical data as well as dividend info. Take a look!