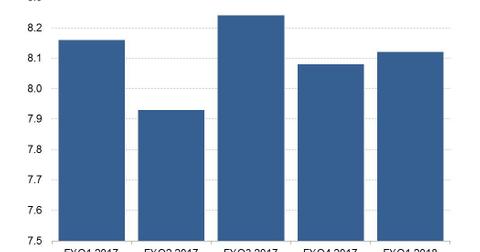 Sprint Sells Mobile Advertising Business
By Ruchi Gupta

Updated
InMobi paid for Pinsight Media purchase with stocks
Sprint (S) recently sold its mobile advertising business Pinsight Media just six years after it was created. The sale came at a time when Sprint is awaiting regulators' decision on its proposal to merge with T-Mobile (TMUS) in a deal valued at more than $26 billion.
Sprint sold Pinsight to InMobi for an undisclosed amount. But it received compensation in the form of stocks, which means Sprint has become a shareholder in InMobi.
Article continues below advertisement
InMobi expanding after Pinsight purchase
InMobi is a leading provider of the mobile advertising platform aimed mostly at enterprise customers. InMobi acquired mobile mediation and revenue management provider AerServ in January for $90 million. Six months later, InMobi entered into a deal for cloud-based mobile marketing with Microsoft (MSFT), one of the world's top cloud computing companies.
InMobi is planning to expand to more markets in North America following its acquisition of Pinsight.
$141 billion in mobile advertising market
Pinsight specializes in mobile ads targeting, which means it helps brands reach the right audience with the right marketing message delivered on a person's smartphone using data from wireless providers. That kind of ad targeting is thought to have inspired AT&T (T) to buy TimeWarner and AppNexus, leading to its launch of a new advertising unit.
By selling Pinsight in exchange for a stake in InMobi, Sprint is able to remove a non-core operation without forgoing the revenue opportunity in the mobile advertising market. In the United States, the mobile advertising market is expected to generate $141 billion in revenue by 2022, according to eMarketer.
Sprint's revenue declined 0.4% YoY (year-over-year) in the June quarter, while T-Mobile and Verizon (VZ) grew their revenues 3.5% and 5.4% YoY, respectively. Sprint is expected to report its September results on October 31. The consensus calls for revenue of $8 billion compared to $7.9 billion a year ago.