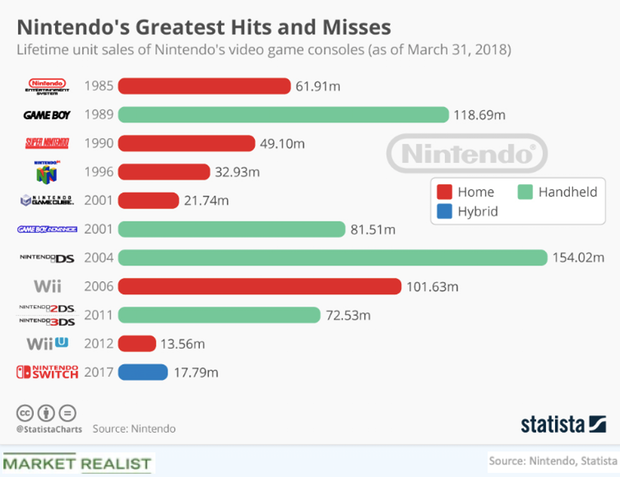 How Nintendo Transformed Gaming
By VanEck

Oct. 30 2018, Published 2:51 p.m. ET
VanEck
The Atari home console was instrumental in bringing the video game technology from the Research Lab and from the ether into people's homes, where you had people playing video games sitting around the TV, the family getting together, your neighbors getting together. Then, in 1985, the Nintendo Entertainment System, NES, came out. That was huge because it represented a shift from prior to that, when the video game companies themselves, Atari for example, was making Atari games: nobody else can make Atari games but Atari. So what the NES system did was let third-party developers have the chance to make these games for the video game console. The number of video game companies really grew at that point and their mainstream popularity in the United States in particular just exploded. That was a watershed moment in 1985. Then you go into the '90s and you have the rise of PC gaming and the Internet. You have people having LAN parties, Local Areas Network. You have basically five or six people all lug their huge old desktops to one person's house and they all connect their computer and they're all playing online.
LOPEZ: Things have changed since then, now we're online around the world.
Article continues below advertisement
LEE: For sure, now we've got people playing on their mobile phones, playing against people on their PC, playing against people on their PlayStation, or their Xbox. The barriers between consoles and, really, the different players are disappearing as more and more people are joining together in these online communities watching each other play. We talk a lot about the eSports tournaments, but another huge component of this online social media gaming industry is the rise of the individual streamers. It's similar to a YouTube personality, where somebody has this crazy gaming personality and they get dressed up and they have a lot of energy and they get hyped up. Some of these people are pulling in massive amounts of money through corporate sponsorship and through just individual donations onto their streaming websites. One of the guys, Ninja is the most famous guy right now. He's making around, supposedly, $500,000 a month through his various revenue streams.
Market Realist
Gaming hardware maker and game developer Nintendo (NTDOY) was a pioneer in the gaming industry and changed gaming for good. However, with the advent of computers and the Internet, Nintendo has had to change its strategy over the years.
Meanwhile, the popularity of esports has soared in the past few years. Many companies across the world are realizing the potential of esports and discovering that a lot of money can be made in the esports market. According to Business Insider, esports will reach $1.5 billion in revenue by 2020.
The success of live esports events that generate massive audiences, both in arenas and at home, has surprised broadcasters, who never thought the medium could pull in such crowds.
As we mentioned earlier, it's possible that pro gamers could soon earn more than pro athletes, something that was not imaginable a few years ago. A large portion of the overall esports audience is based in China.