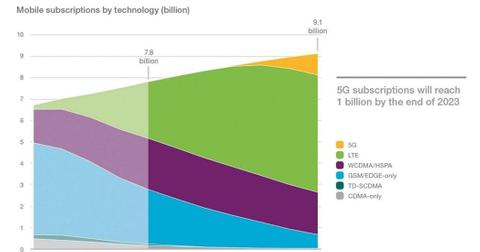 Ericsson Wins Network Contract from Celcom
By Ruchi Gupta

Updated
Internet data demand on the rise
Ericsson (ERIC) has won a contract to expand and upgrade the 4G (fourth-generation) network of Celcom, Malaysia's leading data network provider. Celcom has seen a surge in demand for its data services and has turned to Ericsson to help strengthen its network to keep up with that demand.
The rise of e-commerce, online banking, and online video services is driving Internet data demand in Malaysia, with the government estimating the country's Internet penetration to be 85.7% at the end of 2017. Malaysia has a population of 31.2 million people, according to World Bank figures.
Article continues below advertisement
Preparing Celcom for 5G
As part of the Celcom network upgrade, Ericsson's work will involve setting the operator on the path to launch 5G (fifth-generation) services. Ericsson predicts that 5G will become the mainstream mobile network in Malaysia in the next few years. Globally, Ericsson predicts that there will be as many as 1 billion 5G subscribers. Ericsson's customer Verizon (VZ), which launched the world's first commercial 5G network in the United States early this month, is targeting 30 million households across America with its 5G Home service.
Ericsson is in a race with Nokia (NOK) and Samsung (SSNLF) to supply American operators with 5G gears. Samsung supplied Verizon's initial commercial 5G project, and both Ericsson and Nokia have won large 5G-related network contracts from T-Mobile (TMUS), which is on track to merge with its rival Sprint.
Growing share of Malaysian operators' spending
The Celcom contract puts Ericsson on a path to grow its share of Malaysian operators' expenditures. In January, the company extended its contracted managed services with Malaysia's fourth-largest operator, U-Mobile, by five years to 2022. Ericsson made ~$723 million in revenue from its managed services business in the second quarter, with the business contributing 13.1% to the company's total revenue.
The global managed services industry was valued at $152.5 billion in 2017 and is on track to hit $257.8 billion by 2022, according to MarketsandMarkets.