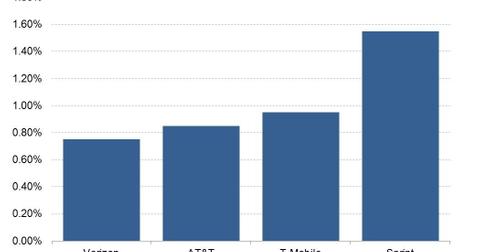 Behind T-Mobile's 36-Month Device Payment Plan Test
By Ruchi Gupta

Oct. 24 2018, Updated 9:30 a.m. ET
Galaxy Note9 buyers getting 36-month payment plan 
T-Mobile (TMUS) is testing a 36-month device payment plan. It has typically allowed its customers to upgrade to a new smartphone and pay the cost in installments over a 24-month period. A 36-month payment plan would give T-Mobile customers extra time to pay off their device balances.
T-Mobile's 36-month payment plan is initially for customers buying Samsung's (SSNLF) Galaxy Note9. Samsung is the world's top smartphone vendor in terms of device shipment in the second quarter, according to Gartner.
Article continues below advertisement
Smartphones becoming more expensive
A 36-month device payment plan could be a win-win for T-Mobile and its subscribers who would get 12 more months to pay for their devices. That could be particularly attractive now that smartphones are becoming more expensive. Last month, Apple launched a new set of iPhone models, with the flagship device starting at $1,100. Last year's flagship iPhone started at $1,000. The Samsung Galaxy Note9 sells for $1,000 in the United States.
Improving subscriber retention
T-Mobile's 36-month device payment option could make it stand out from the competition. A longer device payment plan could help T-Mobile hold on to its customers for a longer period, potentially improving its subscriber retention rate. In the saturated US wireless market, competition has come down to operators trying to lure customers from one company to theirs.
T-Mobile's postpaid phone churn rate, a measure of customer defection, improved 15 basis points to 0.95% in the June quarter. AT&T (T) and Verizon (VZ) reported June quarter postpaid phone churn rates of 0.85% and 0.75%, respectively. Sprint's (S) postpaid phone churn rate was 1.55%. The lower the churn rate, the better.