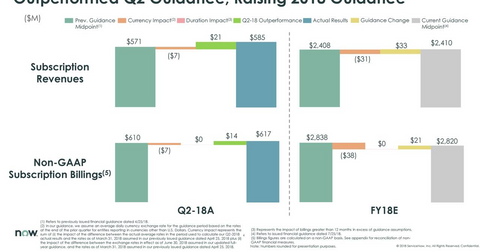 Why ServiceNow Could Achieve Ongoing Robust Revenue Growth
By Adam Rogers

Updated
An integrated portfolio of solutions
ServiceNow (NOW) operates in the high-growth SaaS (software-as-a-service) business. While the company initially focused on IT services, it offers strong help desk experience that has driven its retention rates higher. 
Employees can report problems and incidents, as well as raise queries, using ServiceNow's tools and dashboards. The company has focused on automating these requests and route them to the appropriate vertical, which reduces enterprise costs and increases efficiency.
Article continues below advertisement
With ServiceNow's extensive range of dashboard applications, customers can now develop their own applications using the company's platform. While revenues from IT services accounts for over 63.0% of total revenues, ServiceNow is looking to expand into other verticals such as security, customer service, and human resources. These verticals are combined into the Emerging Product category and account for 27.0% of company revenue.
Contract and renewal rate
ServiceNow's customer retention rate stands at an impressive 98.5%. Its software subscription model has an average contract duration of three years. The company has managed to increase its customer base by 10.0% YoY. While its revenues have increased at a CAGR of 35.0% over the last few years, it suggests that existing customers have subscribed to new services.
Over 75.0% of the customer base now subscribes to more than one service, up from 30.0% in 2016. The company's management believes the total available market to be ~$60.0 billion, indicating huge growth potential for the company.
The barrier to entry is low in the industry where ServiceNow operates. However, the switching costs remain high as enterprises have already spent substantial amounts on employee training and development.