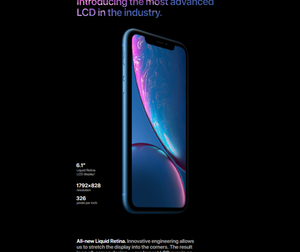 Why Is the iPhone XR Important to Apple Suppliers?
By Puja Tayal

Updated
2018 different than 2017 for Apple
Apple (AAPL) plans to make its base version iPhone XR available to customers at the end of October, more than a month after the launch of its premium iPhone XS Max and iPhone XS models. This launch pattern is opposite to the approach it adopted in 2017.
In 2017, Apple first launched the iPhone 8 and iPhone 8 Plus and then its premium flagship iPhone X after a month. These launch timings came as its OLED (organic light-emitting diode) display supplier Samsung (SSNLF) struggled to meet Apple's production volumes.
Why is the iPhone XR launch late?
Some analysts believe that Apple delayed the iPhone XR launch due to supply issues. However, the delay was due to its Liquid Retina LCD (liquid crystal diode) displays. The iPhone XR is bringing iPhone X features such as its notch and Touch Tone to the less costly LCD display.
Ryan Reith, IDC's vice president of mobile device research, told The Verge that the iPhone XR faced software issues. He noted that bringing iPhone X features to the LCD display involved a lot of software engineering. Apple had to make several alterations to get the right visuals, resulting in a delay.
Apple suppliers eye iPhone XR
Apple's iPhone XR is important for Apple suppliers, as analysts expect this model to boost iPhone shipments. When Apple launched its $1,000 iPhone X in 2017, the overall sales volume of iPhones was roughly flat. As a result, Apple benefited from the higher ASP (average selling price). However, Apple suppliers depend on higher volumes rather than higher ASPs for profits.
Suppliers feared that these expensive iPhones would jeopardize their shipment volumes and impact their earnings. However, they expect the advanced features of the iPhone XR and its $749 price point to drive sales volumes. However, Apple's strategy to use multiple suppliers impacted its Taiwanese suppliers. We'll look into this topic next.
Check out all the data we have added to our quote pages. Now you can get a valuation snapshot, earnings and revenue estimates, and historical data as well as dividend info. Take a look!