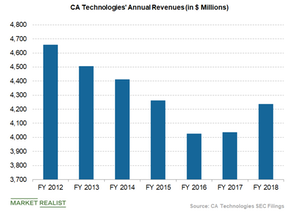 What the CA Technologies Acquisition Means to Broadcom
By Sophia Nicholson

Sep. 11 2018, Updated 7:31 a.m. ET
Broadcom to acquire CA Technologies
In July, Broadcom (AVGO) announced an agreement to acquire CA Technologies (CA) for an equity value of ~$18.9 billion. The all-cash deal still needs the approval of CA shareholders and antitrust approvals from the European Union (EZU) and Japan (EWJ). The deal is slated to conclude in the fourth quarter of 2018.
Article continues below advertisement
The acquisition makes sense to Broadcom
Broadcom has grown to a $100 billion giant through organic product development and a series of acquisitions. The addition of CA Technologies thus makes sense for Broadcom. The decision to buy the company comes after President Donald Trump blocked Broadcom's proposed acquisition offer of $117 billion to buy Qualcomm (QCOM) on national security grounds in March, according to Broadcom's CEO Hock Tan.
CA Technologies has not been doing very well in the last few years. Its revenues have declined consistently from fiscal 2013 to fiscal 2016, as you can see in the above chart, and was almost flat in fiscal 2017. It picked up the pace in fiscal 2018 due to the contribution from acquisitions. Its earnings were suppressed due to consistently increasing interest and taxes.
In this scenario, Broadcom foresees a lot of potential in CA's mainframe-related software products, which account for more than half of CA's revenue. The deal also complements the company's profile of having high-margin products. It is reportedly anticipated that Broadcom might gain from CA Technologies' customer relationships with major enterprises, thus giving Broadcom a chance to directly sell chips, components, and hardware to companies instead of indirectly selling them through hardware OEMs (original equipment manufacturers).