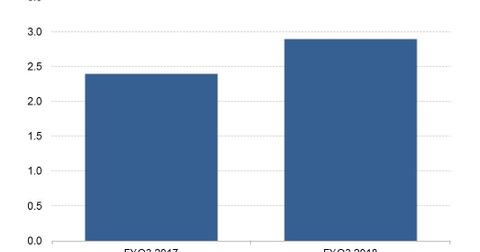 What May Come Out of the EU Review of the Disney–Fox Deal
By Ruchi Gupta

Updated
Decision expected by October 19
Walt Disney (DIS) requires the approval of the European Union antitrust regulator to allow it to close the deal to buy a majority of 21st Century Fox (FOXA)(FOX). The deal includes Fox transferring ownership of its 31.0% stake in European broadcaster Sky to Disney. 
Reuters reported that Disney recently sought EU antitrust approval for the Fox deal, and a decision on the matter is expected by October 19. Disney generated a net profit of $2.9 billion in its fiscal third quarter, which ended in June. This profit increased 23% from the fiscal third quarter of 2017.
Article continues below advertisement
Possible outcomes
The EU review could end in a number of ways for Disney. It could end in an outright approval or an approval with strings attached, such as Disney being required to adhere to certain restrictions to divest certain assets to safeguard competition. It could also result in the EU antitrust regulator opening a thorough review of the deal, which could take months to conclude.
Apple earlier this month won EU approval to close its acquisition of music discovery provider Shazam. That occurred after the EU antitrust agency carried out a months-long review that showed the deal posed no competitive threat.
The approval of the Shazam deal is seen as an important victory for Apple in its battle with Spotify (SPOT) for digital music revenues. Spotify exited the second quarter with 83.0 million paying listeners, about double the number of customers paying for Apple Music.
Qualcomm's NXP deal fell apart
Regulatory reviews can make or kill deals, and that is the uncertainty Disney faces as it awaits the EU's ruling on its proposal to take over most of Fox businesses. In July, Qualcomm (QCOM) scrapped its $44.0 billion deal to buy Dutch chip maker NXP Semiconductors (NXPI) after it failed to win China's approval in time to close the deal.