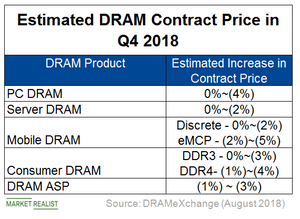 What Is Micron's Strategy to Deal with Falling Memory Prices?
By Puja Tayal

Updated
Memory prices fall
DRAMeXchange expects DRAM (dynamic random-access memory) contract prices to fall 1%–3% in the fourth quarter and 15%–25% in 2019 as Samsung's (SSNLF) and SK Hynix's new DRAM capacities come online. DRAMeXchange expects NAND (negative-AND) prices to fall 10% in the third quarter.
Micron Technology (MU) has been preparing for these challenging times by accelerating its transition to smaller, more cost-effective nodes and high-value memory solutions.
Article continues below advertisement
Cost competitiveness
Between 2013 and 2017, Micron reduced its cost gap with its competitors from 100% to less than 15% in the DRAM space. It plans to start volume production on its 1Y DRAM in the second half of 2018. After 1Y, it plans to shrink the node to 1Z, 1 alpha, and 1 beta using quadruple patterning. Beyond 1 beta, Micron may consider extreme ultraviolet lithography to shrink its nodes further.
In the NAND space, Micron moved from a 65% cost disadvantage over its competitors in 2013 to more than a 15% cost advantage in 2017. It achieved this advantage by transitioning to a 32-layer 3D NAND using CMOS (complementary metal oxide semiconductor) under array architecture in 2015. It adopted array stacking in 2017, wherein it built 64-layer 3D NAND by stacking two 32-layer arrays and 96-layer 3D NAND by stacking two 48-layer arrays. Beyond this, it plans to use charge trap cell technology.
High-value solutions
Micron is also mitigating the impact of commodity prices by increasing its contribution of high-value solutions that command a higher price. The company is expanding the application of its GDDR6 (graphics double data rate) to the networking, industrial, and automotive spaces, which have long product cycles. It's investing $3 billion in a new manufacturing plant in Virginia to focus on these three markets.
In the NAND space, Micron increased its mix of high-value SSDs (solid-state drive) and managed NAND from 21% in 2013 to ~40% in 2017, and it expects to increase this mix to 80% by 2021.
Next, we'll take a look at memory end markets.