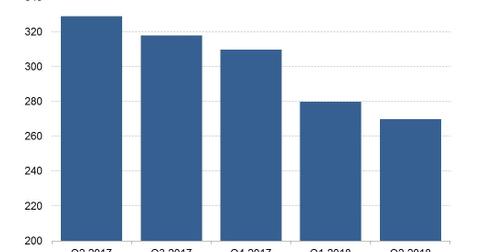 Patent Challenge Ends in Frontier Communications' Favor
By Ruchi Gupta

Updated
Blue Spike challenge to Frontier fades
A $210.0 million patent infringement suit against Frontier Communications (FTR) has collapsed, bringing relief to the telecom and media operator whose long-term debt stood at $16.2 billion at the end of June.
In June, Blue Spike sued Frontier Communications, accusing it of violating several of its patents. Blue Spike, a leading provider of content management and applied security solutions, singled out Frontier's Fios TV business specifically as infringing 11 of its patents. It sought $210.0 million in damages from Frontier Communications for the alleged intellectual property violations. 
However, Frontier Communications alleged that Blue Spike had pursued the wrong entity. The suit was dismissed on September 12.
Article continues below advertisement
Frontier bought Fios business from Verizon
Frontier Communications acquired the Fios TV business through its acquisition of Verizon's (VZ) landline assets in three states in 2015, spending $10.5 billion on the transaction. In addition to running landline operations, Verizon is also the nation's leading wireless operator with ~152.7 million wireless customers at the end of the second quarter.
Frontier Communications has explored a sale of its landline assets to raise funds to pay down its debt, according to a Bloomberg report.
Frontier lost 32,000 pay-TV subscribers
Frontier's pay-TV business contributed $270.0 million to the company's top line in the second quarter, and the company has lost 32,000 pay-TV customers in the latest quarter. AT&T (T), Comcast (CMCSA), and Altice USA (ATUS) shed 286,000, 140,000, and 24,200 traditional pay-TV customers, respectively, in the second quarter.