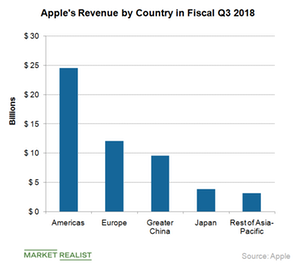 Apple's Older iPhone Models in Patent Battles
By Puja Tayal

Nov. 20 2020, Updated 3:29 p.m. ET
Apple's older iPhone models surrounded by regulatory challenges
The US tariffs on Chinese imports don't appear to impact Apple's (AAPL) iPhones. However, a few iPhone models face the risk of an import ban under Apple's ongoing patent infringement lawsuit with Qualcomm (QCOM) and South Korea (EWY).
Article continues below advertisement
South Korea
Apple is currently being investigated by the Korean Ministry of Trade, Industry, and Energy (or MOTIE) for infringing on a patent owned by the Korea Advanced Institute of Science and Technology (or KAIST). The patent is related to FinFET (fin field-effect transistor) technology that Apple uses in its A-series processors built on TSMC's (TSM) 10-nanometer FinFET node.
According to BusinessKorea, MOTIE might rule in KAIST's favor. This determination would ban sales of Apple's iPhone X, iPhone 8, and some models of iPad and iPad Pro in South Korea. The ban on iPhone X models wouldn't impact Apple, as it recently discontinued the product. However, the ban on the iPhone 8 would impact the company's sales.
Apple's South Korean rival Samsung (SSNLF) could influence MOTIE to rule in Apple's favor. Apple is engaged in a similar lawsuit with KAIST in the United States and has submitted evidence that it believes would invalidate the patent. If Samsung wins the case, the patent in question would be invalidated and Apple's case related to that patent would stand void.
Qualcomm
Apple is engaged in another patent infringement case with Qualcomm. This case erupted from a licensing lawsuit the iPhone maker filed against Qualcomm in January 2017. Qualcomm has asked the ITC (International Trade Commission) to ban some iPhone models in the United States—including the iPhone 7 and the iPhone 8—which it asserts infringe three of its patents. The ITC is expected to provide its final ruling by May 22, 2019.
Because Apple's new 2018 iPhone models would remain unaffected by these legal issues, analysts are bullish about the company's iPhone shipment volumes. We'll look into this topic next.
Check out all the data we have added to our quote pages. Now you can get a valuation snapshot, earnings and revenue estimates, and historical data as well as dividend info. Take a look!