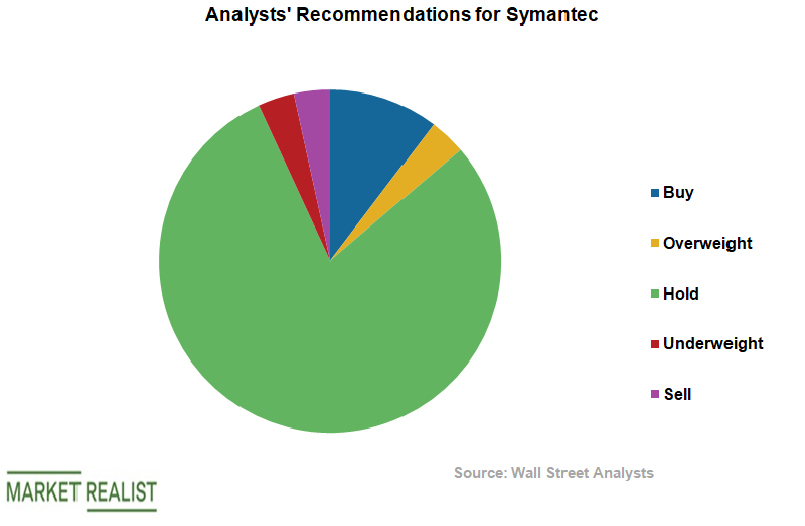 Why Analysts Maintain a Neutral View on Symantec Stock
Analysts' recommendations
On August 27, 29 analysts tracked Symantec (SYMC) stock. Three rated SYMC as a "buy," and 23 provided a "hold" rating. The company received one rating each of "overweight," "underweight," and "sell." The chart below illustrates these ratings.
Article continues below advertisement
Looking at the analysts' views
Symantec is taking time to convert large deals, particularly in North America. These longer sales cycles are expected to impact the company's billing growth. Symantec also slashed its fiscal 2019 outlook as well. Stiff competition from other security service operators coupled with the growing piracy of antivirus products continues to dent Symantec's business.
The launch of advanced security products, which include Symantec Endpoint Protection 14 and Cloud Workload Protection, may drive the company's business. Symantec's acquisition of Blue Coat Systems and LifeLock may boost the company's security business going forward. As a result, Symantec provided an optimistic outlook for 2020.
Average target price
The average target price for Symantec (SYMC) provided by 29 analysts came in at $21.10 on August 27. The company's closing price was $21.06 on the same date.
Symantec has generated returns of -28.9% in the last year, and it has declined 24.3% in the last month. In the last week, Symantec stock has fallen 5.4%. Among its peers, Fortinet (FTNT), FireEye (FEYE), and Palo Alto Networks (PANW) have generated returns of 1.9%, -6.0%, and 1.4%, respectively, in the last week.