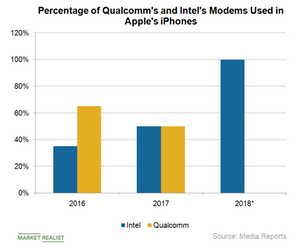 Qualcomm's Modems May Not Appear in Apple's 2018 iPhones
By Puja Tayal

Aug. 7 2018, Updated 7:30 a.m. ET
Qualcomm and Apple go way back
Before 2016, Qualcomm (QCOM) was the sole supplier of baseband modems for Apple's (AAPL) flagship iPhones. In 2016, Apple decided to use Intel (INTC) as a secondary modem supplier for its iPhone 7 models.
In 2017, things heated up by way of a legal dispute between Qualcomm and Apple, following which Apple reduced its exposure to Qualcomm's modems to only 50% of its iPhones.
Article continues below advertisement
No Qualcomm modems inside Apple's 2018 iPhones
On Qualcomm's fiscal third-quarter earnings call, CFO George Davis stated that Apple might not use Qualcomm's modems in its 2018 iPhone models but that it would use Qualcomm's modems for its legacy devices. Apple did not comment on this statement.
Qualcomm did not state who this competitor was, but it's most likely Intel, as Intel has been supplying modems for iPhones for the last two years.
However, the above comment doesn't mean Qualcomm has lost Apple's iPhone business forever. On the earnings call, Qualcomm's president, Cristiano Amon, said, "If the opportunity presents itself, I think we will be a supplier of Apple." This means that Qualcomm may not be involved in the production of Apple's 2018 iPhone models, but it might make it into Apple's future products if the opportunity arises.
Can Apple and Qualcomm work together again in the future?
If Intel is the sole modem supplier for Apple, the iPhone maker could face supply risks arising from dependence on only one supplier. Until now, Intel has manufactured modem chips in TSMC's (TSM) fabrication facilities. In 2018, Intel plans to manufacture its XMM 7660 modem on its 10 nm (nanometer) node, which has been facing technical issues for over two years.
If the 10 nm node fails to deliver the desired yield, Intel can use TSMC's fabs to manufacture modems. If both fail to meet the delivery timelines, Apple might use Qualcomm as a last resort. Next, we'll see how the possible cancellation of Qualcomm's modem orders by Apple could affect the iPhone maker and Qualcomm.