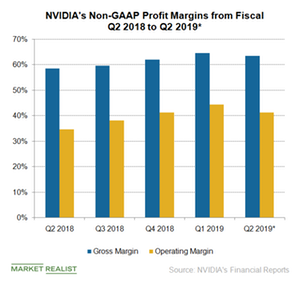 NVIDIA's Profitability Is What's Attracting Investors
By Puja Tayal

Aug. 9 2018, Updated 10:30 a.m. ET
NVIDIA's profitability
Earlier in this series, we learned that NVIDIA's (NVDA) shareholder returns are being driven by its high profit margins.
The company has been witnessing strong profits as it has benefited from both increased volumes and an increased ASP (average selling price). The increasing mix of its very-high-margin data center products has improved its overall ASP, expanding its profit margins.
Article continues below advertisement
Gross margin
NVIDIA has its chips manufactured by third-party foundry company Taiwan Semiconductor Manufacturing Company (TSM). Over the last two years, NVIDIA has expanded its non-GAAP (generally accepted accounting principles) gross margin from ~58.1% in the fiscal second quarter of 2017 to an estimated 63.5% in the fiscal second quarter of 2019.
At the NASDAQ International Investor Conference, NVIDIA's CFO, Colette Kress, explained that the company has been developing its GPUs (graphics processing unit) into value-added platforms that are easy to adopt. On the platforms, NVIDIA builds an entire software ecosystem, called CUDA, around its GPUs. The cost of these software capabilities is reflected in the company's operating expenses, but the benefit of the value addition is reflected in its higher ASP, improving its gross margin.
Operating margin
NVIDIA's non-GAAP operating margin has expanded from 26.8% in the fiscal second quarter of 2017 to an estimated 41.4% in the fiscal second quarter of 2019, and its operating expense as a percentage of its revenue has fallen from 31.4% to an estimated 22%. The company's operating efficiency (or the returns it generates per dollar of investment) has improved significantly.
In dollar terms, NVIDIA's operating income has risen 236% over the last two years. Its revenue has risen 117%, and its operating expense has risen 53%.
NVIDIA's profit margins are expected to contract on a sequential basis. The end of the crypto boom has seen the slowing of the windfall gains it earned from crypto miners in the fiscal first quarter of 2019.
Next, we'll look at NVIDIA's EPS.