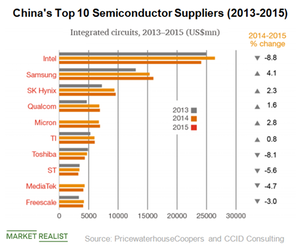 Should Investors Worry about China's DRAM Price-Fixing Probe?
By Puja Tayal

Nov. 20 2020, Updated 3:24 p.m. ET
China has a history of price-fixing probes
China's (MCHI) probe of DRAM (dynamic random access memory) makers is because the country is significantly impacted by high DRAM prices. There were concerns that China's probe might lead to fines and force chipmakers to lower their prices.
China has a history of price-fixing probes and fines. In 2017, Chinese regulators imposed a $65 million fine on eight shipping companies from Korea, Japan, and Europe for allegedly fixing prices. China forced Qualcomm (QCOM) to lower its royalty rates on 3G/4G[1. third-generation, fourth-generation] technology.
However, China might not get its way this time. Micron (MU), Samsung (SSNLF), and SK Hynix may not be worried about the probe since they believe the probe probably won't lower DRAM prices.
Article continues below advertisement
Could China's price-fixing claim impact DRAM prices? 
China may find it difficult to prove that the trio coordinated their investments to fix prices. The three companies looked at the public disclosure of their rivals' DRAM investments before planning their investments in capacity expansion. They used that supply discipline to prevent any oversupply situation that would significantly hurt their profits.
China also may not want to spoil its relations with the three suppliers since the country is extremely dependent on them. The DRAM market is already facing a tight supply, and price controls by China might encourage suppliers to prioritize shipments to other countries that are willing to pay the market price. A lack of DRAM supply might disrupt China's electronics production and have a huge impact on domestic handset makers.
Finally, China is in negotiations with the United States, which recently lifted the sales ban on China's ZTE. China has also promised to increase imports of semiconductors and other goods if the United States abandons plans to impose tariffs on Chinese imports. China may not want to jeopardize these trade negotiations by forcing Micron to reduce its DRAM prices.
In the next part, we'll look at some other scenarios that could influence China's probes.
Check out all the data we have added to our quote pages. Now you can get a valuation snapshot, earnings and revenue estimates, and historical data, as well as dividend information. Take a look!