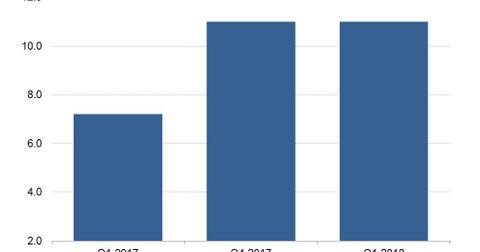 Samsung Plans to Appeal Patent Verdict
By Ruchi Gupta

Updated
Samsung could be on the hook for $1.2 billion
Samsung (SSNLF) has expressed disappointment with a jury's verdict that it infringed on a patent owned by a top South Korean research university. The US federal jury ordered Samsung to pay $400 million to KAIST's (Korea Advanced Institute of Science and Technology) licensing unit for allegedly violating a chip technology patent. Samsung has pledged to appeal the decision.
The jury's verdict was that Samsung intentionally infringed on the disputed patent, opening the possibility for the judge to increase the damage award up to three times the amount set by the jury, Bloomberg reported. Therefore, Samsung could be slapped with a $1.2 billion bill in the case.
Samsung questions validity of disputed patent
Samsung not only thinks it owes nothing to the Korean university's IP (intellectual property) management unit, KAIST IP, but also contests the validity of the disputed patent. Samsung worked with KAIST to develop the technology covered by the disputed patent, so it doesn't see how it infringed on the university's patent, the company told the jury.
The disputed patent covers a process to make smaller chips that are both powerful and efficient in terms of energy consumption. KAIST IP claimed in its complaint that Samsung was dismissive of the technology, but turned around and started using it after it realized that its rival, Intel (INTC), was licensing the technology to use in its own products.
Samsung made $11 billion profit