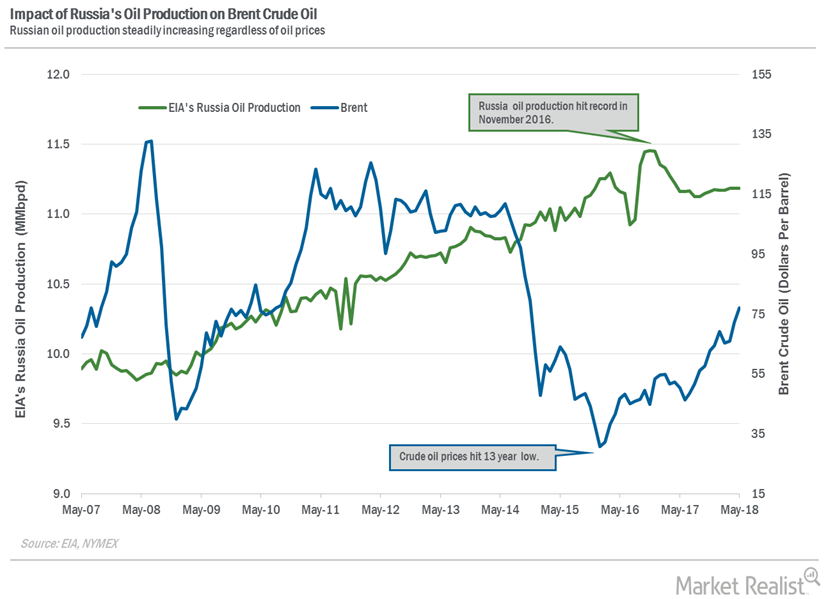 Russia's Crude Oil Production and OPEC's Meeting
Russia's crude oil production
Russia's crude oil output averaged 10.97 MMbpd (million barrels per day) in May. The production has been steady at this level for the last three months. However, Russia's crude oil production averaged 11.1 MMbpd in early June.
Russia's crude oil production increased despite the current self-imposed supply cuts. On June 14, Russia's energy minister said that Russia was interested in a gradual exit from ongoing supply cuts. Brent crude oil prices hit $80.5 per barrel on May 17, which is the highest level since late 2014. Since then, the prices declined 6.4% due to the expectation of a rise in crude oil production from Russia and OPEC.
Article continues below advertisement
The SPDR S&P Oil & Gas Exploration & Production ETF (XOP) has fallen ~5% since May 17. XOP follows the S&P Oil & Gas Exploration & Production Select Industry Index. Callon Petroleum (CPE), Halcon Resources (HK), Matador Resources (MTDR), and Ring Energy (REI) account for 3.8% of XOP's holdings. These stocks have fallen 27%, 26.7%, 23.3%, and 22%, respectively, since May 17. These stocks were among the top percentage losses in XOP's portfolio during this period.
Russia and production cuts 
On November 30, 2017, Russia and OPEC decided to extend the current supply cuts until December 2018. Russia pledged to cut its production by 300,000 bpd (barrels per day) from 11.47 MMbpd (million barrels per dauy) as part of the production cut deal. Russia cut the crude oil production by ~277,000 bpd in May—compared to its targeted decrease of 300,000 bpd. Brent and US oil prices have risen ~68.1% and ~55% since June 21, 2017, partly due to current supply cuts.
Russia and OPEC's meeting
Russia's oil production has increased ~80% from 6.1 MMbpd in 1999. OPEC's meeting is scheduled for June 22. Russia has shown its inclination to exit from the current supply cut deal. Russia proposed a combined (OPEC and non-OPEC) production increase of 1,500,000 bpd. Société Générale expects that Russia could increase its production by 200,000 bpd in two to three months.
Rosneft is Russia's largest oil producer. Rosneft will be able to increase the crude oil production by 70,000 bpd in just two days if the ongoing supply cuts are lifted.
Next, we'll discuss Saudi Arabia's crude oil production.