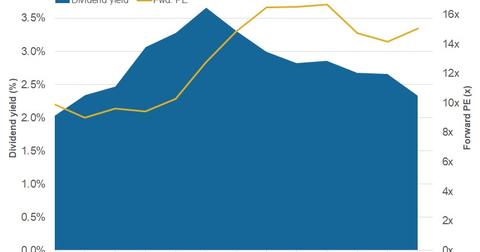 MPC Stands Midway on Dividend Yield with the Highest Valuation
By Maitali Ramkumar

Updated
MPC's dividend yield
In the previous part, we discussed PBF Energy (PBF), the stock with the third-highest dividend yield. Now, we'll review Marathon Petroleum's (MPC) dividend yield.
Ranking fourth in our review, Marathon Petroleum (MPC) stands midway in the seven dividend-yielding refining stocks. MPC is an American downstream company with refining, midstream, and marketing business segments. MPC's market cap of ~$37.0 billion ranks third among the seven firms being discussed in this series.
MPC has a current dividend yield of 2.3%. In the second quarter, MPC made a dividend payment of $0.46 per share. This was announced on April 25 and was paid on June 11.
MPC has consistently paid dividends in the past three years despite refining margin volatility. Comparatively, MPC's dividend payment for the second quarter of 2015 stood at $0.50 per share, which occurred before the stock split in May 2015.
Valuations
Marathon Petroleum trades at a forward PE of 15.1x. This has risen from its 9.9x forward PE in the second quarter of 2015. Valero Energy (VLO) and Phillips 66 (PSX) also saw rising valuations in the past three years. MPC's current forward PE multiple is the highest among the seven refining stocks discussed in this series.
On April 30, MPC announced the acquisition of Andeavor (ANDV). This is expected to create the largest downstream company in the US. Also, the acquisition could create vast operational synergies and huge refining and midstream capabilities. For more on this topic, please refer to MPC-ANDV Merger Could Create $1 Billion in Synergies.
Also, MPC has its ongoing growth activities. The company is focusing on its midstream segment expansion. Also, MPC has been modernizing and upgrading its refining units.