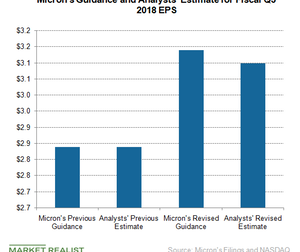 Micron Expects Its Quarterly EPS to Cross the $3.0 Mark
By Puja Tayal

Updated
Micron's earnings
Micron Technology's (MU) earnings rose faster than its revenue as the company invested in advanced DRAM (dynamic random-access memory) and NAND (negative AND) technology that helped it to reduce the cost gap with rivals Samsung (SSNLF) and SK Hynix.
In fiscal Q2 2018, Micron reported non-GAAP (generally accepted accounting principles) EPS of $2.82, beating analysts' consensus estimate of $2.71 and the upper range of its revised guidance of $2.70–$2.75. Its previous EPS guidance range for fiscal Q2 2018 was $2.51–$2.65.
Micron's fiscal Q3 2018 EPS guidance
This trend seems to have continued in fiscal Q3 2018. In March, Micron reported fiscal Q3 2018 EPS guidance of $2.76–$2.90, because of which many analysts revised their estimates upward, increasing the consensus estimate from $2.62 to $2.84.
In May, Micron revised its fiscal Q3 2018 EPS guidance range to $3.12–$3.16. Analysts revised their EPS guidance from $2.84 to $3.1. Micron has been beating its EPS estimate for the past 11 quarters. In fact, in fiscal Q2 2018, it even beat its revised guidance. There's a high probability that this trend will be repeated and Micron will report fiscal Q3 2018 EPS of above $3.16.
What the revised guidance implies
If we look at Micron's revised guidances for fiscal Q2 2018 and Q3 2018, the revised guidance range is shorter than the previously guided range. A narrow range signals certainty of the earnings figures. The range is narrow because the revised guidance is released a few days prior to the end of the quarter and takes into account the factors that affected the company's earnings during the quarter.
In Micron's case, the guidance was revised upward, which saw its stock rise over 6%. Even Broadcom (AVGO) released revised guidance a few days before the end of fiscal Q2 2018, but the narrow range showed a decline, which saw its stock fall ~2%.
Next, we'll look at analysts' full-year EPS estimate for Micron.
Check out all the data we have added to our quote pages. Now you can get a valuation snapshot, earnings and revenue estimates, and historical data as well as dividend info. Take a look!