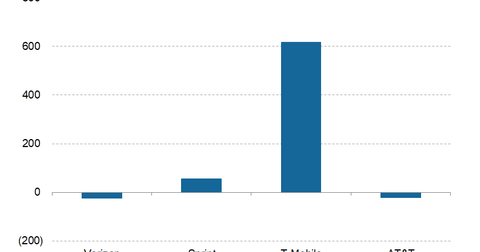 Merger Update: T-Mobile's Acquisition of Sprint
By Ambrish Shah

Updated
T-Mobile to merge with Sprint
US wireless service providers Sprint (S) and T-Mobile (TMUS) agreed to merge in April. According to the deal, each Sprint shareholder will get 0.1 shares of T-Mobile. The combined entity is expected to be worth $146.0 billion. The companies expect to close the proposed merger of $26.5 billion by the first half of 2019 subject to regulatory approvals as well as other customary closing conditions. Accordingly, a US Senate committee has planned to hold a hearing related to the proposed merger on June 27 to oversee antitrust issues.
Sprint's management noted, "By bringing scale for T-Mobile plus Sprint that would give to this platform the ability to invest massively in 5G and to reduce cost to carry data and hence to reduce our pricing for the customers." However, opponents have argued that combining T-Mobile and Sprint would reduce choices for wireless consumers, resulting in higher prices.
History of the T-Mobile and Sprint merger
This is the third time in the last four years the two rivals, Sprint and T-Mobile, have attempted to merge. The merger discussions collapsed last year in November due to the tug of war over the ownership of the combined entity. The first round of merger talks in 2014 ended due to antitrust concerns.
However, both T-Mobile and Sprint have a common aim: to compete with market leaders AT&T (T) and Verizon (VZ). In the first quarter of 2018, T-Mobile and Sprint added 617,000 and 55,000 postpaid phone net subscribers, respectively. Meanwhile, Verizon and AT&T lost 24,000 and 22,000 postpaid phone net subscribers, respectively.
Check out all the data we have added to our quote pages. Now you can get a valuation snapshot, earnings and revenue estimates, and historical data as well as dividend info. Take a look!