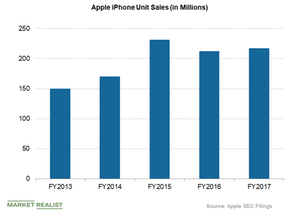 Is Apple Compromising on iPhone Screen Quality for Profit Margin?
By Sophia Nicholson

Updated
Apple to sacrifice on iPhone screen quality
Apple (AAPL) is reportedly planning to make adjustments to the screen quality of its next iPhone model, which is slated to release in September 2018. According to the Wall Street Journal, the decision to choose cheaper LCD screens for the new iPhone comes as the company is looking to boost the profit margins of its iPhone portfolio.
While Apple's bottom line will likely rise after putting LCD screens in the new models, it might lag behind other Android smartphones concerning quality and appearance.
Apple's higher-end smartphones limit profits
Notably, iPhone sales have remained sluggish for the past two years probably due to weaker demand resulting from the growing competition from Samsung (SSNLF) and China's (FXI) Huawei, Oppo, and Vivo models in the worldwide smartphone market. In fiscal 2017, Apple's iPhone shipments rose 2% year-over-year (or YoY) to 216.8 million driven by an increase in shipments of iPhone 7 and 7 Plus. However, Apple saw a significant decline of 8% in fiscal 2016 shipments to 211.9 million from the fiscal 2015 level.
Apple's iPhone X, which was launched in November 2017, also didn't live up to analysts' expectations and therefore posted lower-than-expected sales in the fiscal first quarter of 2018. There were also reports of the company slashing its iPhone X production due to its lower demand, probably due to its high pricing.
Therefore, Apple may need to reconsider its average revenue per handset. Accordingly, Apple is planning to keep a mix of LCD and OLED screens in its portfolio. For instance, last year's iPhone X included the first OLED-equipped iPhone, while the iPhone 8 and iPhone 8 Plus had LCD screens.
Apple is set to offer LCD screens in its lower-priced handsets and will have OLED screen display in its higher-priced handsets, which would, in turn, increase the average revenue per handset and could retain the attractiveness of Apple's higher-end iPhones.