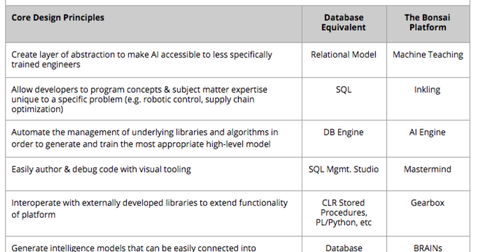 How Bonsai's Technology Complements Microsoft's Stance on AI
By Anne Shields

Updated
Bonsai will be part of Microsoft Research AI
Earlier, we discussed Microsoft's (MSFT) recent acquisition of Bonsai, which operates in the AI space. Bonsai will become a part of Microsoft Research AI, which was established in 2016 and boasts 5,000 computer scientists and engineers.
According to Microsoft, Bonsai's platform in Microsoft Research AI will lead to an "AI toolchain" that is expected to develop "any kind of autonomous system" for calibration, measuring and controlling tasks. This toolchain, integrated with Azure ML (machine learning) and supported by Azure Cloud, will be run on Azure IoT (Internet of Things). Microsoft can provide an "end-to-end solution for building, operating and enhancing 'brains' for autonomous systems."

Article continues below advertisement
Bonsai's software has made AI more accessible
The above chart, taken from Medium, shows the data on how Bonsai has facilitated and improved the level of abstraction in the AI space, as databases have done for data in the past. Through Bonsai, a developer gets a special-purpose programming language to categorize the concepts distinctive to its problem domain.
Bonsai recognized the lack of data science flair required to build and develop sophisticated AI models. It designed and created an AI platform that reduces or removes the complexity, making the management and the programming of AI models more accessible.