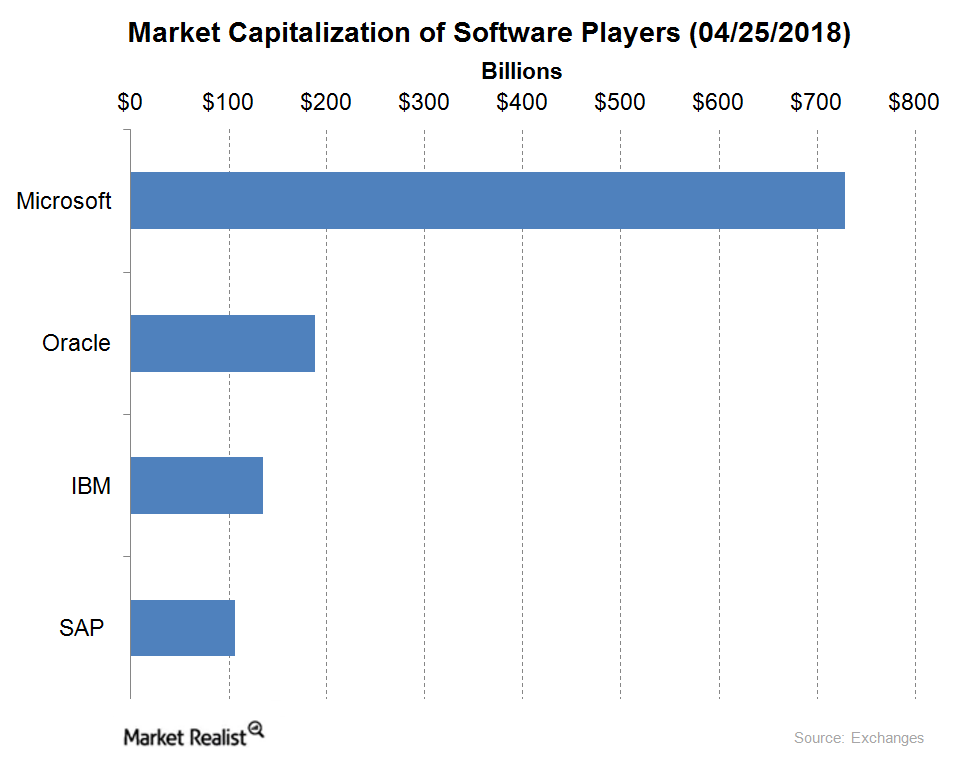 Where Does IBM Stand in the Software Space?
By Anne Shields

May. 3 2018, Updated 9:02 a.m. ET
IBM's scale in the systems software space
So far in this series, we've discussed the factors that weighed on the DJIA (Dow Jones Industrial Average) as well as the threat posed by Amazon (AMZN) to IBM's (IBM) dominance in the blockchain technology space. Now let's look at IBM's value proposition among select software companies in the United States. Let's start with IBM's size.
On April 25, 2018, Microsoft (MSFT) had a market cap of more than $728.0 billion. It enjoys the status of being the largest software player by market cap globally. Microsoft was followed by Oracle (ORCL) with its market cap of ~$188 billion. IBM was third in terms of market cap. Germany-based SAP (SAP) is also a leading player in this space.
Article continues below advertisement
IBM's dividend yield
IBM ended 2017 with a dividend yield of ~4.1%, and it currently has a forward annual dividend yield of 4.3%. The recent fall in IBM's stock price has increased its dividend yield. To date in 2018, IBM stock has fallen 5.4%. It last raised its dividend payout in April 2017. IBM's dividend yield was higher than Microsoft's and Oracle's forward dividend yields of ~1.8% and ~1.7%, respectively, on April 25, 2018. SAP's forward dividend yield was 1.6% on the same day.
A company's dividend yield is a calculation of its annual dividend per share in relation to its price per share. It shows how much cash investors receive for every dollar they invest in a company's equity. Investors tend to prefer high dividend yields, as they provide stable income.