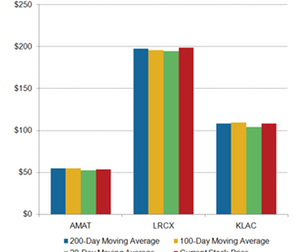 Understanding Applied Materials' Stock Price Movement
By Puja Tayal

Updated
Technical analysis
Semiconductor stocks were at the center of the March stock market sell-off, which was triggered by trade tensions between the US and China. Because Applied Materials (AMAT) is positioned at the beginning of the supply chain, its stock is among the first to be impacted by any industry-wide news.
The decline in stock prices is more event-driven than fundamentals-driven. To understand investors' reactions to all the noise around market risk, we'll look at technical indicators that analyze a stock based on its trade volume and price movement.
Article continues below advertisement
Moving average
When a stock's short-term moving average is higher than its long-term moving average, it shows technical strength and indicates positive investor sentiment.
AMAT's 20-day moving average of $52.00 is lower than its 100-day moving average of $54.00, indicating technical weakness and downward momentum. Lam Research (LRCX) and KLA-Tencor (KLAC) displayed similar results, as their 20-day moving averages are lower than their 100-day moving averages.
However, the 50-day moving averages of all three stocks are higher than their 100-day moving averages, indicating that this technical weakness is recent. To assess the depth of this technical weakness, we'll look at the three stocks' 200-day moving averages.
200-day moving average
The 200-day moving average shows a stock's resistance when its price is below this average and its support when its price is above this average. If a stock falls below its 200-day moving average, it's believed to be in a downtrend and vice versa.
On May 9, AMAT was trading slightly below its 200-day moving average of $54.64, and LRCX and KLAC were trading slightly above their 200-day moving averages. However, all three stocks are hovering near this average, indicating that these stocks can take any direction—upward or downward—based on the news.
To get a clear picture on which direction a stock is likely to move, we need to understand the intensity of investor sentiment via the stock's RSI (relative strength index).
RSI
A stock's RSI is measured on a scale of 0–100, with an RSI lower than 30 indicating oversold status, greater than 70 indicating overbought status, and ~50 indicating no buying or selling trend.
On May 9, AMAT had an RSI of 45, which is higher than LRCX's RSI of 40 but lower than KLAC's RSI of 46. This shows that trading activity is neutral around AMAT and KLAC stock. Investors are holding this stock because AMAT has yet to release its fiscal 2Q18[1. fiscal 2Q18 ended April 28] earnings. KLAC reported flat revenue guidance for the June 2018 quarter.
LRCX investors are slightly inclined toward the sell option, as the company expects its shipments to decline 3.0% sequentially in the June 2018 quarter. When AMAT releases its fiscal 2Q18 earnings on May 17, the company's guidance is expected to determine the direction of a stock's movement.
Next, we'll look at the fundamental valuation of these three stocks to determine whether they present attractive options for value investors.
Check out all the data we have added to our quote pages. Now you can get a valuation snapshot, earnings and revenue estimates, and historical data as well as dividend info. Take a look!