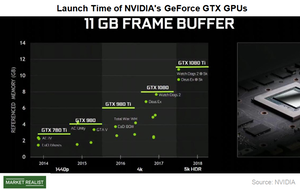 The Rumors on NVIDIA's Upcoming Gaming Graphics Unit
By Puja Tayal

Nov. 20 2020, Updated 4:24 p.m. ET
Rumors around NVIDIA's upcoming gaming GPU
So far, we've seen that NVIDIA's (NVDA) gaming GPUs (graphics processing units) were gobbled up by crypto miners. The company tried to prioritize gamers over miners with its GPP (GeForce Partnership Program) but was forced to close the program due to objections from rival Advanced Micro Devices (AMD).
Amid these developments, NVIDIA did not launch new gaming GPU architecture or upgrade its current GPUs, fueling rumors about an upcoming gaming GPU.
Article continues below advertisement
Architecture
NVIDIA launched its last gaming GPU architecture, Pascal, in June 2016. It built this GPU on TSMC's (TSM) 16nm (nanometer) node. NVIDIA launched Volta architecture on TSMC's 12nm FFN (FinFET NVIDIA) node in June 2017. There were rumors that NVIDIA would launch a Volta-based gaming GPU at the start of 2018, but no such announcement was made. Even now, the company is quiet about its next gaming GPU, giving more room for rumors.
Rumors say that NVIDIA will use Volta architecture only for high-end segments of data center and professional visualization, and that it will launch a separate architecture for gaming, Turing, by the end of 2018.
Process node
Which process node Turing will be built on is debatable. Pascal was built on TSMC's 16nm node. If Turing is the next-generation gaming GPU, it might be built on TSMC's 12nm FFN node, like Volta, as the node has matured after manufacturing Apple's A11 Bionic and A10X Fusion processors for almost a year.
There is also a possibility that NVIDIA's new gaming GPU might come in 2019 and be built on TSMC's new 7nm node. In its fiscal 1Q18 earnings call, TSMC stated that it has planned over 50 product tape-outs for the 7nm node by the end of 2018. Among these products are gaming GPUs and server CPUs (central processing units). AMD stated that it would build its next-generation Radeon Instinct server processor on TSMC's 7nm node. Therefore, NVIDIA might launch its gaming GPU on the 7nm node.
We can conclude that NVIDIA's next-generation gaming GPU will be built on the 12nm node if it is launched by the end of 2018 and on the 7nm node if it is launched in 2019. Continue reading to learn more about NVIDIA's upcoming gaming GPU.
Check out all the data we have added to our quote pages. Now you can get a valuation snapshot, earnings and revenue estimates, and historical data as well as dividend info. Take a look!