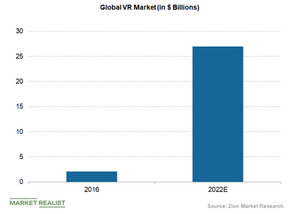 Facebook Is Set to Achieve Virtual Reality Goals with Oculus Go
By Sophia Nicholson

Updated
Facebook's Oculus Go on sale
Facebook (FB) is increasingly focused on virtual reality (or VR) and is hoping that its new headset, Oculus Go, can help the company make virtual reality mainstream. Oculus Go, which costs just $200 in comparison to other VR systems that are priced at $500 at the least, will now be available at a discounted price. At Facebook's F8 developer conference, the company announced that the Oculus Go headset would cost $199 with the 32-GB onboard storage and $249 for the 64-GB version.
Oculus Go features
At a $199 price point, the standalone device gives a more seamless experience than the flagship Oculus Rift or other high-end VR systems. The headset is made of a breathable mesh fabric, has a vibrant display, and has built-in speakers, so the device doesn't need any cords, an expensive PC, or a specific smartphone. The headset is powered by the Qualcomm Snapdragon 821 Mobile VR platform and has an average battery life of two hours for gaming or video watching.
Facebook pushing hard into virtual reality
Facebook, which acquired Oculus in 2014, competes with Sony (SNE) and HTC, in the virtual reality market. However, Facebook still lags its competitors in shipments. Meanwhile, Mark Zuckerburg said in October that he wants to see a billion people using virtual reality. However, the timeline for that goal was not specified.
According to research firm Canalys, only 2 million virtual reality headsets were sold worldwide in 2016, while Facebook could sell only 400,000 Oculus units. Canalys, however, expects Oculus shipments to increase over the next few years.
According to Zion Market Research, the global VR market was worth just over $2.0 billion in 2016. However, the market is set to grow at an annual average of 54% to reach $26.9 billion by 2022, as illustrated in the chart above.