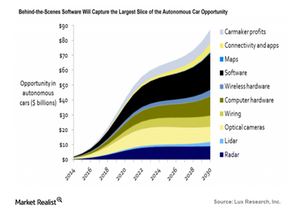 Will Google's Waymo Get Permit to Test Autonomous Cars?
By Sophia Nicholson

Apr. 26 2018, Published 12:45 p.m. ET
Waymo applies to test autonomous cars
Alphabet's (GOOGL) autonomous car development company Waymo recently applied for a newly available permit to test driverless cars on some California roads. With this application, Waymo has become the second company to apply for testing of autonomous cars without a driver behind the wheels. In March, Waymo already successfully tested driverless cars in Phoenix, Arizona.
Article continues below advertisement
Waymo's tests in California
If Waymo gets the permit to put driverless cars on California roads, the company plans to start testing near its Mountain View headquarters with its self-driving Chrysler Pacifica minivans. Waymo has plans to expand the testing of autonomous cars with no backup driver to the Bay Area shortly. Waymo conducts its first tests on a self-driving vehicle with a back-up driver.
Waymo on Uber's fatal accident
Waymo's test permit in California comes a few months after a fatal accident involving a self-driving Uber SUV in Arizona, in which a pedestrian was killed on March 19. Reportedly, the vehicle had a backup driver, but according to reports, he was not watching the road. The accident not only banned Uber from testing autonomous cars in the state of Arizona, but it raised concerns about the safety of autonomous cars. However, Waymo CEO John Krafcik has confidence in its technology and believes Waymo cars would have handled the situation better.
Waymo's competition in the autonomous market
Waymo, which started testing autonomous vehicles in 2009, is expected to bring driverless taxis on Arizona streets in late-2018, becoming the first commercial autonomous cab service in the US. The launch of Waymo's taxi service is expected to put pressure on ride-hailing companies Uber and Lyft. General Motors (GM) holds a significant stake in these companies.
The autonomous car market is growing in popularity, and thus tech biggies like Intel (INTC), Qualcomm (QCOM), NVIDIA (NVDA), and Apple are trying to grab a bigger share of the pie. According to Boston Consulting Group (or BCG), the segment is expected to grow to $42 billion by 2025 and $77 billion by 2035.