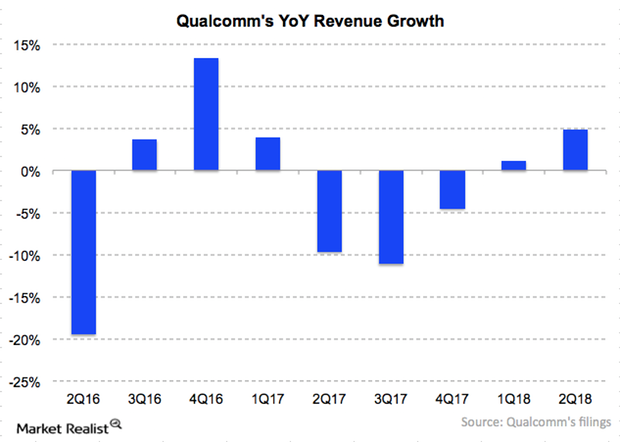 Why Qualcomm Stock Has Fallen Recently
Qualcomm beat earnings and revenue estimates
Chipmaker Qualcomm (QCOM) reported its fiscal 2Q18 financial results on Wednesday, April 25. The company beat both earnings and revenue estimates. However, Qualcomm's net income fell 52% from the same quarter last year, as it has been embroiled in a lawsuit with Apple. Apple and some other smartphone makers have withheld royalty payments to the company as a result.
Qualcomm posted a net profit of $363 million in fiscal 2Q18, while its revenue rose 4.9% YoY to $5.3 billion, beating analysts' estimates of $5.2 billion. On an adjusted basis, the company earned $0.80 per share, while Wall Street expected $0.70 per share. Qualcomm's stock was up 0.6% in the early hours of Thursday.
Article continues below advertisement
Qualcomm's stock has been under pressure recently
The company generated revenue of $3.9 billion from chips used in mobile devices, a 6% rise from fiscal 2Q17. Qualcomm generated nearly 75% of its revenue from such chips. The smartphone market has seen slowing growth, which is why the acquisition of NXP Semiconductors could prove to be critical for the next bout of growth.
In order to gain investor support during the hostile takeover bid by Broadcom (AVGO), the company said in January that it will reduce costs by $1 billion. Recently, the company said it will cut 1,500 jobs in California.
These announcements led to a decline in the company's stock price. Qualcomm stock has fallen 23.0% in 2018, partly because the company has not been able to close the acquisition of NXP Semiconductors, which is currently blocked by the Chinese government.