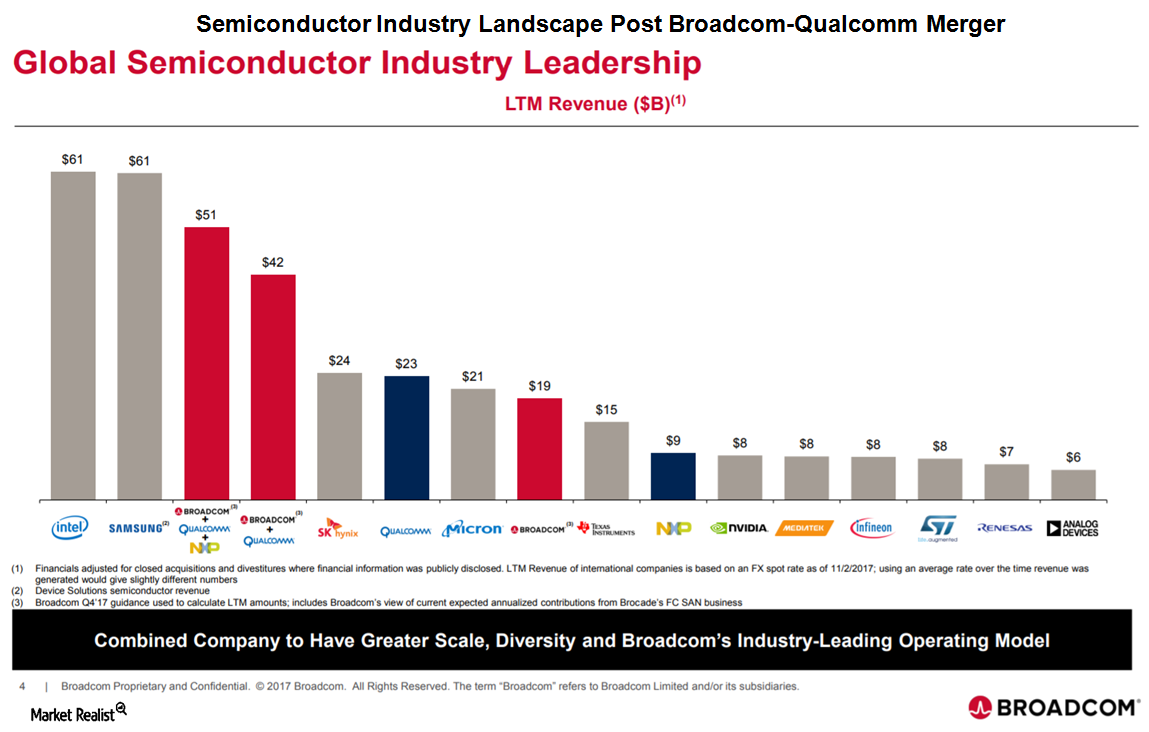 Why Intel Intervened in the Broadcom–Qualcomm Deal
By Puja Tayal

Apr. 6 2018, Updated 11:15 a.m. ET
Qualcomm played all its cards to fend off acquisition from Broadcom
In the earlier parts of the series, we saw that Qualcomm (QCOM) has been looking to fend off Broadcom's (AVGO) hostile takeover since it first received the offer in November 2017. Qualcomm played all its cards to avoid a takeover:
The Qualcomm board unanimously rejected the offer.
It tried to encourage shareholders to vote against Broadcom-nominated directors.
It criticized Broadcom's management strategy and how it would impact its efforts in 5G technology.
It increased its offer price for NXP Semiconductors (NXPI) from $110.00 to $127.50.
On January 29, 2018, Qualcomm filed a request to the Committee on Foreign Investment in the United States (or CFIUS) to review the takeover deal without informing Broadcom about it.
When these measures failed and the shareholder meeting date neared, Qualcomm tried to negotiate a better offer price from Broadcom at the end of February 2018.
Article continues below advertisement
Tech industry opposed the Broadcom–Qualcomm deal
In addition to Qualcomm, tech giants Microsoft and Google also opposed the Broadcom–Qualcomm deal, expressing concern that it would benefit Apple (AAPL), reported CNBC. The tech giants also feared that Broadcom might reduce its research and development investment in an attempt to cut costs and improve operational efficiency.
Qualcomm's rival Intel (INTC) also opposed the Broadcom–Qualcomm deal, as the combined company would create a bigger rival and pose a competitive threat. Intel has been gaining modem business from the Apple-Qualcomm dispute over licensing. 
The dispute started when Apple chose Intel as its second modem supplier, as Qualcomm was no longer the iPhone maker's exclusive modem supplier. If Broadcom acquired Qualcomm, the former could possibly settle the dispute with Apple. As a result, Intel would lose modem business from Apple.
Intel intervenes in the Broadcom–Qualcomm deal
According to a Wall Street Journal report, Intel has been closely monitoring the Broadcom–Qualcomm saga and hoping for the deal to fail due to these competitive concerns. Intel didn't turn to the federal government but instead worked on a countermove with its advisers.
Sources stated that Intel decided to intervene and offer to acquire Broadcom if the Broadcom–Qualcomm deal became apparent. Intel did just that on March 9, 2018, when CFIUS stepped in. However, it appeared that Broadcom had convinced CFIUS that the deal posed no national security threat.
The unnamed sources told the Wall Street Journal that Intel would not have gone through with the acquisition offer and that it might have withdrawn given the complexity and size of the combined Broadcom–Qualcomm–NXP Semiconductors. Even without the acquisition, Broadcom carries an enterprise value in excess of $110.0 billion. The combined company would be worth much more, and Intel wouldn't be able to accumulate such funding with its already leveraged balance sheet and rising interest rates.
The technology industry opposed the Qualcomm–Broadcom deal for reasons other than the combined company becoming a dominant market player. We'll look at these reasons next.