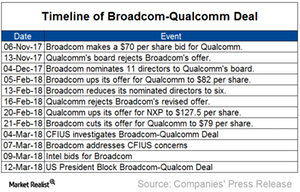 Trump Blocked the Broadcom–Qualcomm Deal
By Puja Tayal

Updated
A twist in the Broadcom–Qualcomm story 
Broadcom's (AVGO) hostile takeover of Qualcomm (QCOM) was near its showdown, as Qualcomm shareholders prepared for the election of the Broadcom-nominated directors at the annual shareholder meeting on March 6, 2018.
However, the drama saw a twist with the entry of the Committee on Foreign Investment in the United States (or CFIUS), a government agency that reviews the national security implications of foreign investments and makes recommendations to the president.
On March 4, 2018—two days before the shareholder meeting—CFIUS delayed the shareholder meeting by 30 days to April 4, 2018, as it investigated the deal for national security reasons. The deal came under CFIUS review, as Broadcom is based in Singapore.
Article continues below advertisement
On March 7, 2018, Broadcom pledged to increase Qualcomm's research and development spending, promote 5G technology, and invest $1.5 billion to train American engineers in order to ease CFIUS concerns. It attempted to negotiate with the CFIUS chairman and pledged to domicile itself in the US, but these efforts were unsuccessful.
Trump writes the conclusion of the Broadcom–Qualcomm saga
On March 12, 2018, President Trump issued an executive order to block the hostile takeover. This action was based on the CFIUS recommendation that the takeover would reduce Qualcomm's technology competitiveness in 5G and also impact its influence in setting wireless standards. Trump issued an executive order barring Broadcom-nominated directors from standing in the election.
Broadcom officially withdrew its offer for Qualcomm two days after Trump's executive order, bringing an end to the five-month-long technology takeover saga. This move was welcomed by Qualcomm's cloud customers Alphabet (GOOG) and Microsoft (MSFT), which opposed the deal.
Next, we'll see why the US, major technology companies, and Qualcomm opposed Broadcom's hostile takeover offer.