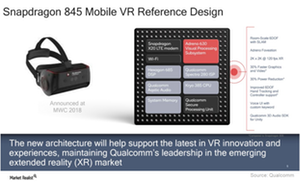 Qualcomm Expands Snapdragon 845 Chipset in Standalone VR Market
By Puja Tayal

Nov. 20 2020, Updated 12:09 p.m. ET
Growth drivers of Qualcomm's Chipset business
Qualcomm (QCOM) has been expanding its Snapdragon SoC (system-on-chips) family beyond mobile to IoT (Internet of Things) and PCs. The company's SoCs are advanced and provide better developer support than MediaTek's SoCs. Qualcomm expanded its previous-generation 10nm (nanometer) Snapdragon 835 beyond mobile and into PC by launching laptop processors in collaboration with Microsoft (MSFT).
Qualcomm has launched its latest Snapdragon 845 SoC, which is integrated with Adreno 630 GPU (graphics processing unit). This SoC is being used by Samsung (SSNLF) in some of its S9 smartphones. Qualcomm expanded its SD 845 (Snapdragon 845) into VR (virtual reality).
Article continues below advertisement
Qualcomm eyes standalone VR headset
Qualcomm sees future growth opportunities in standalone VR headsets that don't depend on smartphones and PCs to run VR content. Many standalone VR headsets have emerged, such as HTC Vive Focus and Lenovo Mirage Solo.
Qualcomm unveiled the reference design of its SD 845 headset at MWC 2018 (Mobile World Congress) at the end of February. VR headset makers like Google Daydream and Oculus can use this design as the base to build their headsets.
In 2Q18, Qualcomm expects to launch its Snapdragon 845 VRDK (VR developer kit) and HMD (Head Mounted Display) Acceleration Program to equip VR headset makers with everything they need to develop headsets on its Snapdragon SoC. These headsets are expected to hit the market in the latter part of 2018 and early 2019.
Article continues below advertisement
Snapdragon 845 VRDK
The Snapdragon 845 VRDK includes a new headset and an SDK (software development kit) for developers. The kit features room-scale 6DoF (six-degrees-of-freedom) tracking that uses the SLAM technique to map users' environments and bring physical world objects into the virtual world as real-time hurdles. SLAM is powered by SD 845's computational DSP (dedicated signal processor). Its 6DoF room-scale tracking improves accuracy and reduces drift.
Snapdragon 845 VRDK uses Tobii-powered eye tracking and two internal cameras to track where the user's eyes are looking. The kit also uses Adreno Foveation to make the area where the user is looking high resolution instead of making everything high resolution. This helps make VR headsets more power efficient, which is boosted by the Adreno 630 GPU.
Developers can use the eye-tracking feature to add another method of control other than hands. It can also help make VR more social, as tracking eyes can help VR copy the user's actual expressions. While SD 845 is for the premium market, there are rumors that Qualcomm is bringing AI (artificial intelligence) capabilities to its midrange chipsets. Continue reading to learn more about this chipset.
Check out all the data we have added to our quote pages. Now you can get a valuation snapshot, earnings and revenue estimates, and historical data as well as dividend info. Take a look!