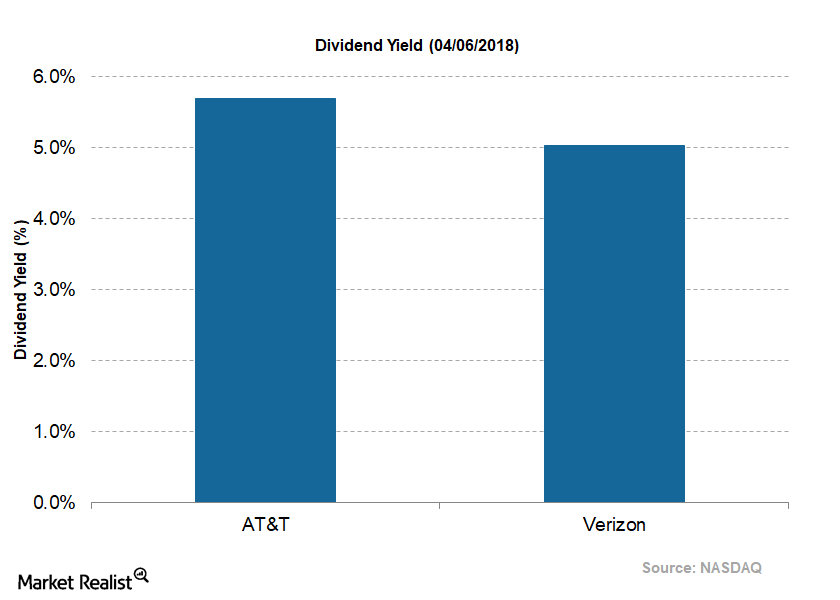 Comparing Verizon's and Peers' Dividend Yields
Verizon's dividend yield
In this part, we'll compare Verizon's (VZ) dividend yield with that of peers such as AT&T (T). Dividend yields represent the true cash inflow to investors in return for every dollar they invest in a company's equity until the stock is sold. As dividends can provide a steady income for investors, long-term investors tend to prefer stocks that have better dividend yields and growth. Verizon's dividend yield was ~5.0% on April 6, 2018, lower than AT&T's ~5.7%.
In 4Q17, Verizon declared a quarterly dividend of $0.59 per share, up ~2.2% year-over-year. Verizon paid total dividends of $2.4 billion in 4Q17 and $9.5 billion in fiscal 2017, using almost all of its adjusted free cash flow.
Article continues below advertisement
Verizon's scale
As of April 6, Verizon's market capitalization was ~$193.7 billion, making it the second-largest US wireless service provider in terms of market cap. In comparison, Sprint (S), AT&T, and T-Mobile (TMUS) had market caps of ~$20.6 billion, ~$218.8 billion, and ~$51.0 billion, respectively.
Check out all the data we have added to our quote pages. Now you can get a valuation snapshot, earnings and revenue estimates, and historical data as well as dividend info. Take a look!