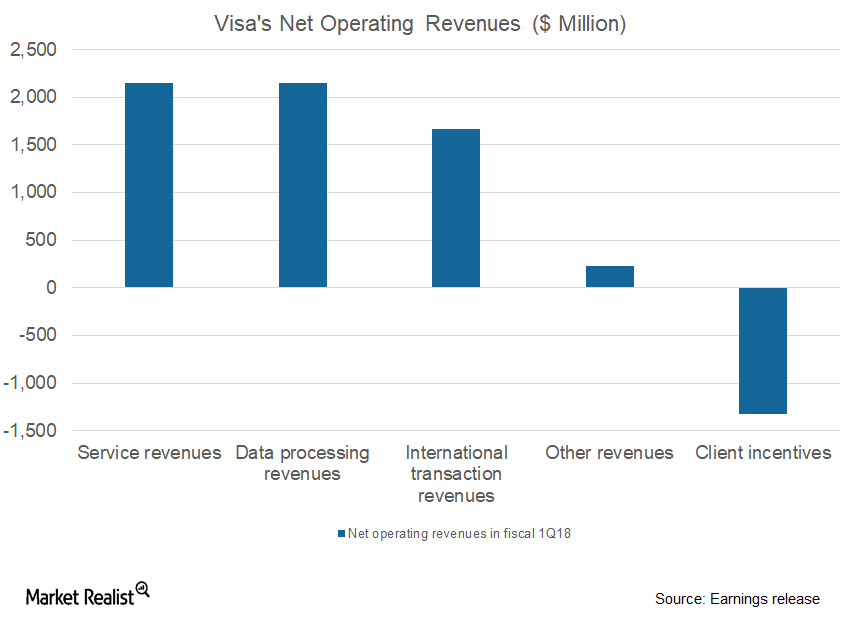 An Analysis of These Components of Visa's Net Operating Revenue
Percentage of net operating revenue
Visa (V) has been benefiting from its significant scale and the overall shift toward digital tools. Moreover, increased support from governments, such as India's, has also helped the company to gain market share.
Of its total fiscal 1Q18 net operating revenue of $4.9 billion, Visa's service revenue made up $2.1 billion, or 44.1%. The company's service revenue is mainly driven by its payment volumes, so a rise in payment volumes would, in turn, lead to a rise in service revenue.
Visa's service revenue is expected to witness upward momentum moving forward mainly aided by technology advancements and increased customer numbers.
Article continues below advertisement
International transaction revenue
In fiscal 1Q18, international transaction revenue as a percentage of Visa's total net operating revenue stood at 34.3%. Activities with respect to currency conversion and cross-border transactions determine Visa's international transaction revenue. Thus, as the global economy improves and the number of transactions rises, the company's international transaction revenue rises.
In fiscal 1Q18, Visa's data processing revenue accounted for 44.2% of its total net operating revenue. The company's data processing revenue was mainly driven by its number of processed transactions. In the same period, Visa's other revenue accounted for 4.7% of its total net operating revenue.
On March 27, 2018, Visa's market cap stood at $272.2 billion, while its peers (XLF) Synchrony Financial (SYF), Fiserv (FISV), and Discover Financial Services (DFS) had market caps of $25.3 billion, $14.7 billion, and $25.3 billion, respectively.