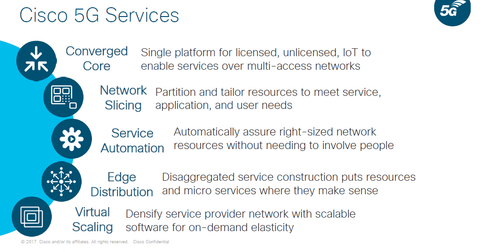 A Look at Cisco Systems' 5G Services and Use Cases
By Adam Rogers

Apr. 13 2018, Updated 6:32 a.m. ET
Mobile SD-WAN
In this article, we'll look at several use cases for Cisco Systems' (CSCO) 5G technology. The highly anticipated 5G space is a lucrative one for networking firms such as Nokia (NOK), Cisco Systems, Ericsson (ERIC), and China's (FXI) Huawei. These firms believe 5G could become the major revenue growth driver in 2020 and beyond.
Cisco Systems aims to offer services to enterprises across verticals such as converged core, network slicing, service automation, edge distribution, and virtual slicing. Cisco Systems' mobile SD-WAN (software-defined wireless area network) allows customers to offer services with MLPS (multi-protocol label switching) and OTT (over-the-top) support with Meraki and Viptela.
Article continues below advertisement
IoT and virtual collaboration
Cisco Systems' IoT (Internet of Things) connectivity management platform allows customers to automate and manage IoT connected devices. Cisco Systems believes that virtual collaboration could be the future of the work environment. As low-latency collaboration becomes more interactive, Cisco Systems is optimistic about how its Spark collaboration solution could fit into the 5G ecosystem.
Smart cities and mobile video
By targeting the smart city space, Cisco Systems (CSCO) is helping its customers build an inclusive and optimized outdoor IoT (Internet of Things) environment. The firm is also looking to allow service providers to offer the required network services, connectivity, and slices, which could give rise to new business models.
One of the major 5G services for Cisco Systems is to help service providers deliver an enhanced mobile broadband experience to customers and enterprises. Cisco Systems also aims to help service providers plan, deploy, and deliver public Wi-Fi services in a rapid and secure manner.