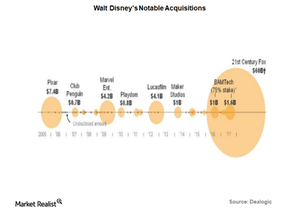 Will Comcast's Bid for Sky Shake Disney's Deal for Fox's Assets?
By Sophia Nicholson

Mar. 26 2018, Updated 9:01 a.m. ET
Comcast offers $31 billion for Sky
Comcast's (CMCSA) surprise offer to buy UK-based Sky has stirred up tension for 21st Century Fox (FOXA) and the Walt Disney Company (DIS), which are also looking to take over Sky.
Last month, Comcast offered a bid of 12.50 British pounds per share for European pay-TV group Sky, ~16.3% higher than Fox's offer of 10.75 pounds per share. Fox already owns 39% of Sky and is looking to buy the remaining 61%.
Article continues below advertisement
Sky's confidentiality agreement
Disney also views Sky as a crown jewel and is, therefore, seeking a 39% stake in Sky from Fox as part of the $52.4 billion asset deal the companies announced last year. Disney is looking to purchase certain Fox assets, including a minority stake in Sky.
Comcast's all-cash surprise entry was apparently an effort to intensify the bidding war for Sky, and it could prompt Fox to make a higher offer to match or exceed Comcast's. However, in a recent development, Sky entered into a confidentiality agreement with Fox and Disney whereby it would disclose specific information that could be relevant to Disney's proposed acquisition attempt to buy Fox's assets, including its stake in Sky. The takeover of Sky will require regulatory approval in London and Brussels, the headquarters of the European Union. Fox expects to close the deal at the end of June 2018.
If Comcast loses out to Disney in the Sky deal, it could increase the rivalry between the two companies. Last year, Comcast had to yield Fox to Disney even though its $60 billion offer was higher than Disney's $52.4 billion offer. Sony (SNE) and Verizon (VZ) also tried to acquire Fox before losing out to Disney.