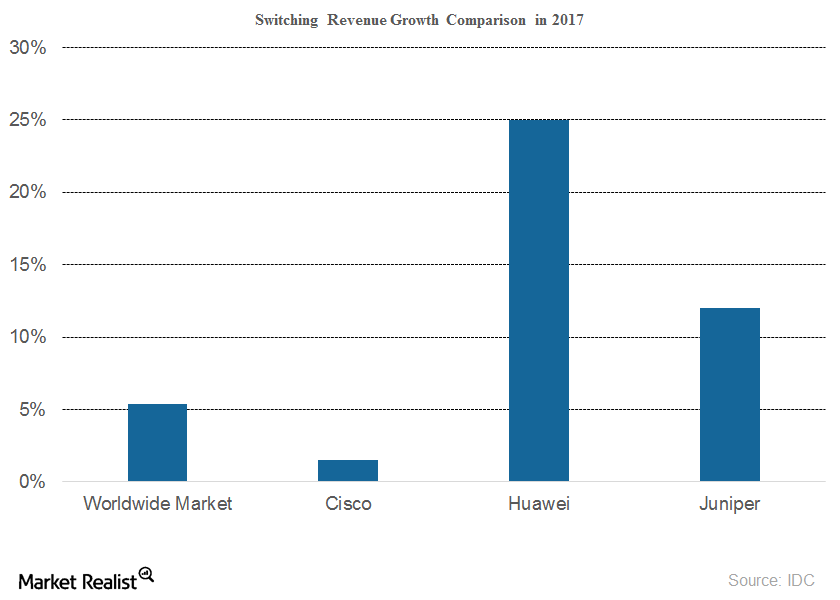 Where Does Juniper Networks Stand in the Switching Segment?
By Adam Rogers

Mar. 23 2018, Updated 9:00 a.m. ET
Worldwide Ethernet switch market rose 3.2% in 4Q17
According to market research firm International Data Corp. (or IDC), revenues in the worldwide Ethernet switch market rose 3.2% YoY (year-over-year) to $6.9 billion in 4Q17. In 2017, revenues rose 5.4% to $25.7 billion.
The Asia-Pacific region (excluding Japan) drove Ethernet switch revenues in 4Q17, as sales rose 11.1% and rose more than 11.0% in 2017. China continued to drive demand as revenues crossed the $1.0 billion mark for the first time in a single quarter during 4Q17. Revenues from China rose 17.8% in 4Q17 and 16.1% in 2017.
Article continues below advertisement
100 Gb Ethernet Switch revenues
The 100 Gb Ethernet switch sector continued to grow in 2017, driven by adoption of hyperscale cloud providers. These 100 Gb shipments accounted for $661.0 million in revenues in 4Q17 (~9.6% of total revenues), up from 4.8% in 4Q16.
Rohit Mehra, IDC's vice president of network infrastructure, stated, "The Ethernet switching market continues to rapidly mature with customers quickly moving to higher 100GbE speeds, especially in datacenter deployments."
The 25 Gb/50 Gb switching products also gained traction in 2017 while sales in the 40 Gb port shipments fell 11.2% in 2017. At the end of 2017, Cisco Systems (CSCO) accounted for 54.9% of the total switching market, compared to 57.0% in 2016.
China's (FXI) Huawei revenues rose ~25.0% in 2017, and the firm now accounts for 8.3% of the total market.
We have seen that Juniper's (JNPR) Switching revenues rose 12.0% in 2017, and the firm accounts for more than 3.7% of this market. Other top firms in the Switching market include Hewlett Packard Enterprise (HPE) and Arista, reporting market share figures of 5.9% and 6.0%, respectively, at the end of 4Q17.