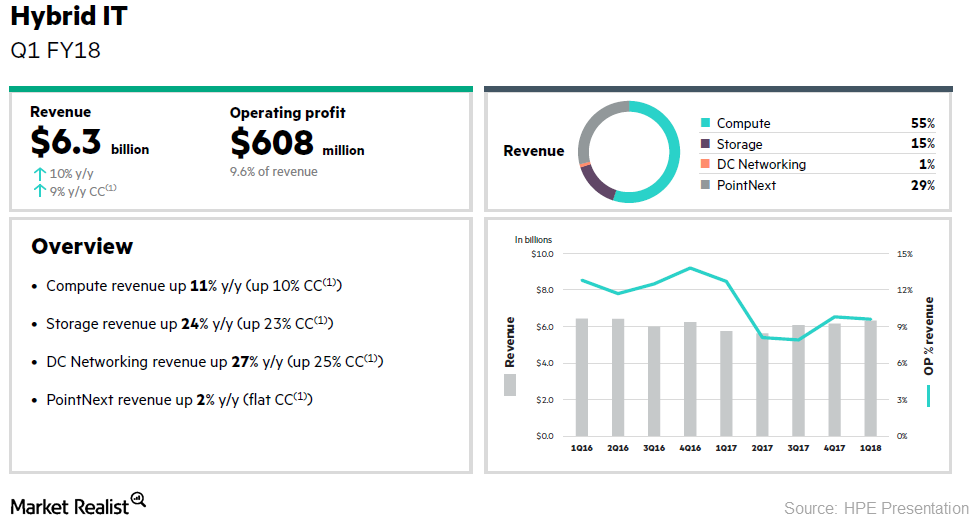 What Impacted HPE's Hybrid IT Revenue in Fiscal 1Q18?
By Adam Rogers

Mar. 1 2018, Updated 11:50 a.m. ET
Hybrid IT revenue rose 10% YoY in fiscal 1Q18
Starting in fiscal 1Q18, Hewlett Packard Enterprise (HPE) has three major business reporting segments: Hybrid IT, Intelligent Edge, and Financial Services.
The Hybrid IT (information technology) segment, HPE's largest business segment, accounted for almost 82% of its total revenue in fiscal 1Q18. The segment consists of revenue from the compute, storage, DC networking (or data center networking), and Pointnext businesses.
Article continues below advertisement
The Hybrid IT segment generated revenue of $6.3 billion in fiscal 1Q18, with an operating profit of $608 million—or 9.6% of revenue. The segment's compute revenue rose 11% YoY (year-over-year), its storage revenue rose 24% YoY, its DC networking revenue rose 27% YoY, and its Pointnext revenue rose 2% YoY in the quarter.
Focus on hybrid IT
HPE believes the worldwide transition to hybrid IT will drive revenue in the long term. HPE provides a platform for enterprises to choose between the right mix of traditional IT, private cloud, and public cloud environments. Its portfolio of solutions helps customers to simplify hybrid IT with a focus on optimizing specific workloads.
Growth in the core ISS (industry standard servers), hyper converge, high performance compute, and synergy verticals drove revenue for HPE in the compute business. HPE's CEO, Antonio Neri, stated, "While we are seeing some market improvement and higher AUPs, we also executed well and seen positive customer momentum around the new secure software refined solutions we have brought to the market."
HPE's storage revenue was driven by its Nimble acquisition as well as its improved 3PAR performance. HPE launched HPE InfoSight, a predictive analytics platform, across its converge and all-flash storage portfolios in late 2017. This platform uses software-refined intelligence to predict and prevent infrastructure problems. DC networking's performance was driven by strong execution in HPE's installed base.