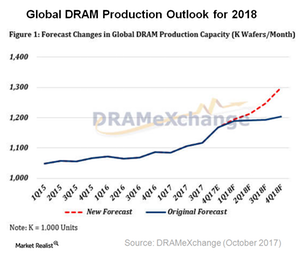 Micron's Take on the DRAM Industry's Demand and Supply
By Puja Tayal

Mar. 30 2018, Updated 10:31 a.m. ET
DRAM industry demand
The technology shift to AI (artificial intelligence) and IoT (Internet of Things) has changed the memory demand market completely. The demand environment has become more secular, with DRAM (dynamic random-access memory) being used in various products, such as PCs (personal computer), mobile phones, data center products, industrial IoT products, automotive products, and edge-computing devices.
With the growing adoption of AI, augmented reality, virtual reality, and cloud-based applications, DRAM content per device will likely continue to increase. Hence, DRAM demand could rise due to diversification and increasing memory content per device.
Article continues below advertisement
DRAM industry supply
Against the backdrop of healthy DRAM demand, DRAM suppliers Samsung (SSNLF), SK Hynix, and Micron Technology (MU) are increasing their capacities in a disciplined manner to avoid a situation of oversupply.
According to a DRAMeXchange article, Samsung is adding a new 18 nm (nanometer), or 1X, DRAM line at its facility in Pyeongtaek, South Korea. It had originally planned to dedicate the entire second floor of the facility to NAND (negative-AND) flash production, but in light of falling NAND prices and undersupply in the DRAM market, the company decided to allocate one section of the second floor to DRAM production. The company expects to increase its mix of 18 nm DRAM in its DRAM output through 2018.
SK Hynix looks to improve the yield on its 18 nm DRAM in 2018. It's also building a new 12-inch wafer fab in Wuxi, China, and it expects to start production in that plant in 2019.
Micron plans to add cleanroom space at its facility in Japan and start producing DRAM in this new facility at the start of 2019. The company is currently ramping up production of its 1X (17 nm) node at its Taiwan facility, and it expects to achieve 50% of DRAM output from this facility on the 1X node by the end of 2018 and 100% by 1H19. It will use the new facility to transition its existing capacity to the 1Y node.
Article continues below advertisement
Micron expects the addition of DRAM capacity to increase industry supply by 20% in 2018. This expectation has raised concerns among investors that the DRAM uptrend is nearing its end. Every downtrend begins with manufacturers increasing their capacities to boost supply. A slight miscalculation on the supplier's end could cause oversupply, bringing DRAM prices crashing down.
But this time, it's different. Demand is more diversified, and it's sufficient enough to absorb planned capacity increases.
Micron's take on increasing DRAM capacity
Micron isn't concerned about the capacity increase. At the Goldman Sachs Technology and Internet Conference, Micron's CEO, Sanjay Mehrotra, stated that every new technology node is capital and material intensive, which means it requires more space and equipment. These requirements make new technology expensive. Moreover, bit gains from new technology are slowing, and memory chip makers are investing more capital only to maintain 20% supply growth. Hence, increasing capital spending doesn't indicate the moderation of supply.
Next, let's look at Micron's NAND business.