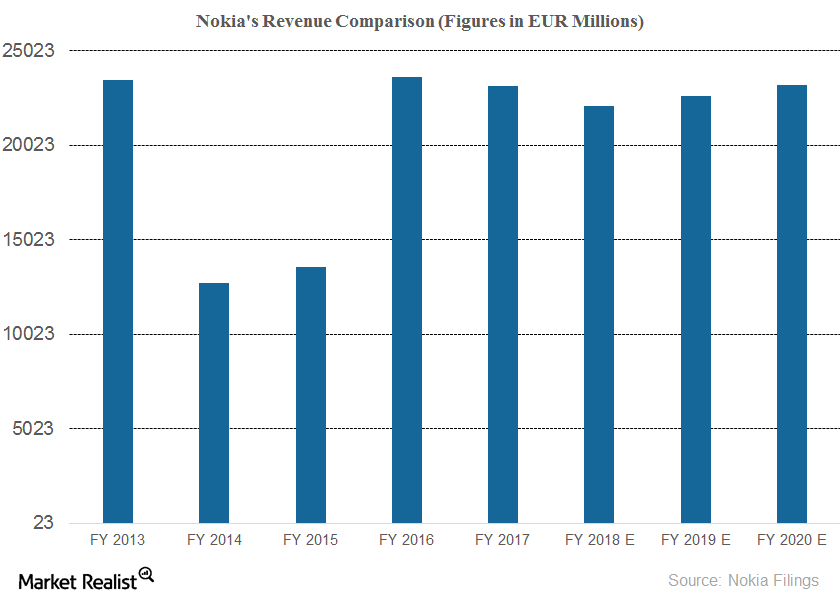 A Look at Nokia's Revenue Estimates for 2018 and Beyond
By Adam Rogers

Mar. 23 2018, Updated 3:45 p.m. ET
Nokia's revenue expected to rise 11.5% in 1Q18
Analysts expect Nokia's (NOK) revenue to rise 11.5% YoY (year-over-year) to $6.4 billion in 1Q18 compared to $5.7 billion in 1Q17. The company's revenue is expected to rise 6.4% to $6.6 billion in 2Q18, 4.9% to $27.4 billion in 2018, and 2.1% to $27.9 billion in 2019.
Comparatively, analysts expect Nokia's non-GAAP (generally accepted accounting principles) EPS (earnings per share) to rise 33.3% YoY to $0.04 in 1Q18, -33% to $0.06 in 2Q18, -13.5% to $0.32 in 2018, and ~22% YoY to $0.39 in 2019.
Analysts expect the revenues of Nokia's peers Cisco (CSCO), Ericsson (ERIC), and Juniper (JNPR) to rise 2.3%, 0.7%, and -5.8%, respectively, in 2018. Analysts expect Nokia's EPS to rise at a CAGR (compound annual growth rate) of 17.4% in the next five years.
Article continues below advertisement
Profit margins
Juniper reported an operating margin of 11.2% in 2017, up from 9.2% in 2016. Analysts expect its operating margin to fall to 10.2% in 2018 and then rise to 11.4% in 2019 and 12.8% in 2020.
The above chart shows historical revenues and future sales estimates for Nokia. The company's revenue rose significantly in 2016 following its acquisition of Alcatel Lucent.