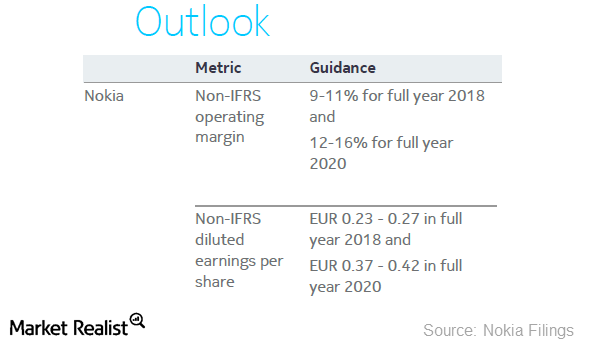 A Look at Nokia's Future Growth Estimates
By Adam Rogers

Mar. 27 2018, Updated 7:31 a.m. ET
Decline in primary addressable market in 2018
Nokia (NOK) has forecast a decline in its primary addressable market in 2018. This decline is occurring at a slower rate than was previously expected due to improved market conditions in North America. Nokia says that it expects market conditions to improve markedly in 2019 and 2020 primarily driven by full-scale rollouts of 5G (fifth-generation) networks.
Nokia plans to invest 100 million euros in 2018 to meet short-term customer requirements for its 5G trials. This investment coupled with sluggish market conditions could mean a decline in profit margins in 2018.
Nokia expects its EPS (earnings per share) to rise between 0.37 and 0.42 euros in 2020. The company is also targeting positive recurring free cash flow as its restructuring and product migrations come to an end. Nokia expects its operating margin to be 12%–16% by 2020.
Article continues below advertisement
Optimistic about 5G
We've already seen that Nokia is one of the major players in the 5G space. It has an enviable 5G Future X portfolio and an excellent product line-up across business groups. The company also expects its 5G market share to be higher compared to 4G.
Nokia is also banking on noncommunication service provider customers and the demand for mission-critical, high-performance networks to drive revenue as enterprises across the world focus on digitization.
Similar to its peers Cisco (CSCO), Ericsson (ERIC), and Juniper (JNPR), Nokia is looking to increase its software revenue, which will most likely lead to recurring revenue growth. Nokia CEO Rajeev Suri stated, "We are gaining momentum in the structurally more attractive software market. And while our focus today is largely on new sales to communication service providers, and that is where the near-term opportunity is the greatest, we will start to accelerate our efforts to provide softer solutions to our other vertical markets."