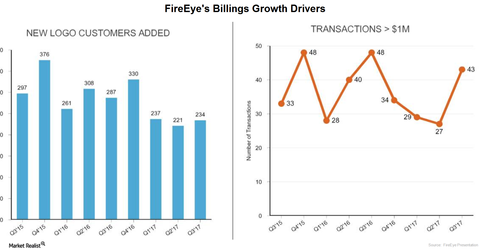 Why FireEye Has Integrated Machine Learning into Its Offerings
By Anne Shields

Updated
FireEye's strategy to develop Helix
In the preceding parts of this series, we discuss how the X15 Software acquisition could complement FireEye's (FEYE) security offerings—especially Helix—with AI (Artificial Intelligence) and ML (machine learning) technologies that are rapidly being adopted and integrated into the cybersecurity space.
To be sure, the growing adoption of cloud technology, the increase in the mobile workforce, and the BYOD (bring-your-own-device) concept have all enabled ease of access to confidential data. As a result, cybersecurity players are struggling to deliver high-security offerings and at a competitive TCO (total cost of ownership).

Article continues below advertisement
In short, AI is likely the key to detecting and preventing intelligent attacks, and the player who can provide competitive security offerings at a competitive cost will probably lead the cybersecurity space. FireEye has leveraged this point and devised a strategy to rely on ML to develop its Helix platform.
Helix integrates security information from the company's network and endpoint security offerings as well as third-party security offerings. It then uses ML (machine learning) to put the assembled data in context.
Although AI usage in the cybersecurity space is still in its nascent stage, the analytical capabilities and predictive power of an AI cybersecurity system should improve with time—as will the threats they're aiming to detect.
AI and ML features boosted FireEye's customer growth and retention
The integration of AI and ML features in FireEye's offerings has helped the company boost its customer growth and retention. In fiscal 3Q17, FireEye added 234 new customers, compared with 221 additions in 2Q17.
Meanwhile, 90% of FireEye's customers renewed their contracts in 3Q17. The company also shared that 38% of its customers bought three or more of its product families, indicating an increase in the company's cross-selling.
Now let's take a closer look at FireEye's use of AI—and the strategy the company hopes to employ with it.