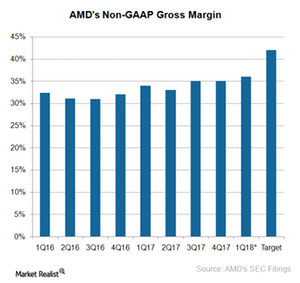 What Is AMD Doing to Improve Its Gross Margin?
By Puja Tayal

Mar. 2 2018, Updated 7:30 a.m. ET
Are AMD's profits sustainable?
Advanced Micro Devices (AMD) had a turnaround year in 2017 as it moved to profits after multiple years of losses. The last time it reported a profit was in 2011. It accumulated total losses of $2.8 billion between 2012 and 2016 as delays in product launches made its products outdated.
Under the leadership of its president, Dr. Lisa Su, AMD revised its focus toward high-performance competitive products. On its 2017 investor day, AMD stated that it would return to profits in 2017 and improve its profits in 2018. So far, it's on track to achieve its target model.
Article continues below advertisement
4Q17 gross margin
AMD improved its non-GAAP (generally accepted accounting principles) gross margin by three percentage points from 32% in 4Q16 to 35% in 4Q17 by reducing its production costs by 5% YoY (year-over-year) and increasing its ASP (average selling price). Its full-year gross margin expanded from 31% in 2016 to 34% in 2017.
Production costs
The company's production costs fell as it received cost benefits from ramping up the production on its 14 nm (nanometer) node. It passed on these cost savings to customers by cutting the prices of its high-end products by as much as 30% in January 2018. It reduced the price for the Ryzen 7 1800x by 30% to $349 and the price for the Threadripper 1900X by 18.2% to $449.
These price cuts come at a time when Intel's (INTC) PC (personal computer) CPUs (central processing unit) were found to be vulnerable to the design flaws Meltdown and Spectre. The timing of AMD's price cuts could help the company boost its chip sales because it's providing customers with a cheaper and comparatively safe option.
Article continues below advertisement
AMD will transition to a 12 nm node with its Zen+ architecture in mid-2018 and to a 7 nm node with its Zen 2 architecture in 2019, bringing it additional cost benefits. In an interview with Anandtech, Dr. Su stated that the company would use TSMC (TSM) and GlobalFoundries for its 7 nm product ramp-up. It would allocate different product lines to each foundry.
Product mix
AMD also increased its overall ASP as it earned 65% of its revenue from computing and graphics. Its new high-end products Ryzen, EPYC, and Vega accounted for ~33% of its revenue in 4Q17.
The larger mix of new products helped AMD boost its gross margin. AMD expects this product ramp-up to continue in 2018, bringing more cost benefits. AMD will also increase the revenue contribution of its high-end EPYC server CPUs in 2018, further adding to its gross margin.
Gross margin guidance
For 1Q18, AMD expects to improve its gross margin by one percentage point to 36%. This expectation is in line with its 2018 gross margin target of 36% and its long-term gross margin target of 40%–44% by 2020.
Next, we'll look at AMD's operating efficiency.