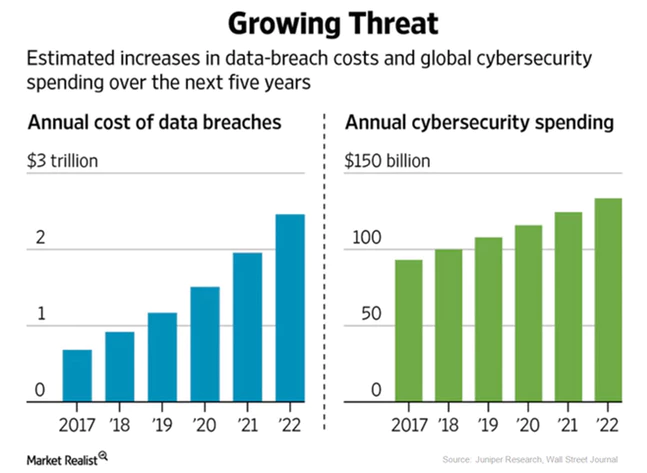 What Impacted Cisco Systems' Security Revenues in Fiscal 2Q18?
Security revenues rose 6% YoY in fiscal 2Q18
In fiscal 2Q18, Cisco Systems' (CSCO) Security segment generated revenues of $558.0 million, an increase of 6.0% YoY (year-over-year) compared to revenues of $526.0 million in fiscal 2Q17. The Security segment has been Cisco's fastest-growing business over the last few quarters.
This segment's revenues rose 10.0% YoY to $2.2 billion in fiscal 2017, up from $2.0 billion in fiscal 2016. In fiscal 1Q18, its revenues rose 8.0% YoY to $585.0 million, up from $541.0 million in fiscal 1Q17.
Article continues below advertisement
Growing importance of cybersecurity
Cisco Systems (CSCO) has a diversified security portfolio. It is already one of the top players in this space with a share of ~16.0%.
Market research firm IDC ranks Palo Alto Networks (PANW), CheckPoint (CHKP), Fortinet (FTNT), and Symantec (SYMC) as the other major players in the cybersecurity space with market share metrics of 14.0%, 12.6%, 10.6%, and 4.6%, respectively.
Long-term view
The long-term growth prospects for Cisco Systems appear positive as cybersecurity is one of its top priorities for enterprises. Cisco's CEO, Chuck Robbins, stated during the company's fiscal 2Q18 earnings call, "Cybersecurity continues to be a top concern for customers as they evolve their enterprise architectures to address the challenges of a pervasive threat environment."
During Cisco's pre-earnings coverage we reported that the networking giant had partnered with Apple and insurance company Allianz. According to the partnership agreement, cyber insurance discounts would be offered to businesses using equipment and technology from Apple and Cisco Systems.
Insurance broker Aon (AON) could help companies strengthen their cybersecurity platforms to make them eligible for favorable insurance terms such as lower premiums.