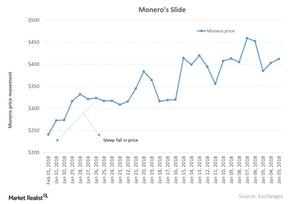 Tops Losers in the Cryptocurrency Market and Other Insights
By Meera Shawn

Updated
Top losers for the day
In the previous article, we noted that most cryptocurrencies faced a down day on Thursday, February 1, led by the overall pessimism in the sector. Among the top losers for the day were Ardor, Ignis, PIVX, Cardano, and Status, which fell 39.2%, 38.5%, 33.6%, 33.5%, and 33.0%, respectively.
The only two cryptocurrencies that gained on the day were DigixDao and Blocknet, which climbed 33.4% and 7.4%, respectively.
Among the top ten cryptocurrencies by market capitalization are NEO, Litecoin, Stellar, EOS, and NEM, which slumped 23.3%, 23.5%, 31.9%, 23.4%, and 32.7%, respectively.
Article continues below advertisement
Monero and mining
Among the cryptocurrencies that are utilized in illegal transactions, Monero's price has fallen sharply over the past few trading days. Monero has fallen 22.0% over the past 24 hours and was trading at $204.70 at 5:30 AM EST.
Monero has risen almost 3,000.0% over the past one-year period. CNN reported on the threat of cybercurrency hackers, which can use botnets to leverage unwitting users' computers. When hackers deploy thousands of botnets, they could generate many thousands of dollars worth of hacked Monero cryptocurrency per year
Samsung and mining
The Royal Mint, which produces physical currency in circulation in the UK, announced that it plans to launch a gold-backed digital currency. This currency is expected to be called Royal Mint Gold (or RMG).
Tech giant Samsung (SSNLF) confirmed that it is involved in the manufacturing of mining chips for cryptocurrencies. Chinese company Bitmain takes ~70.0% of the market share in making cryptocurrency mining chips, and Samsung could become a serious competitor to this Chinese manufacturer.