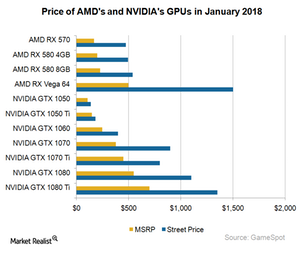 The Crypto Boom and Graphics Processing Unit Prices
By Puja Tayal

Mar. 1 2018, Updated 7:32 a.m. ET
Ethereum price trend in 2017
Advanced Micro Devices (AMD) and NVIDIA (NVDA) reported rhigh consumer GPU (graphics processing unit) revenue in 2017. The GPU demand was driven by the increasing popularity of graphics-intensive AAA games and eSports. However, the major cause for the growth was the cryptocurrency boom.
In 2017, bitcoin and Ethereum prices rose 1,300% and 8,900%, respectively. This growth came in two phases (one in June 2017 and the other in December 2017), boosting demand for discrete GPUs, which are used to mine Ethereum.
Article continues below advertisement
As Ethereum prices rose, more people were encouraged to mine currency. Miners use GPUs to solve complex equations, thereby driving demand for GPUs. Although AMD and NVIDIA supply crypto-specific cards, the demand became so high that miners even purchased gaming GPUs, creating a GPU supply shortage for gamers in 4Q17.
This development made it difficult for the two companies to quantify how many gaming GPUs were purchased by crypto miners, as gamers' and miners' sales channels are the same.
Ethereum price trends in 2018
While Ethereum peaked on January 15, 2018, a correction in global stock markets saw Ethereum fall 50% from its January peak of $1,385 to $695.40 on February 6, 2018. However, Ethereum has since recovered by 23%. While the effect of lower Ethereum prices on GPU sales is not yet clear, it is important to note that GPU mining is still profitable at current Ethereum prices.
Impact of crypto boom on GPU prices 
The growing demand from crypto miners created a shortage of GPUs in the market. As demand was higher than supply, GPU prices rose to two to three times the MSRPs (manufacturer's suggested retail prices). The GPU prices were artificially inflated, as mining server farms purchased GPUs directly from third-party foundries such as TSMC (TSM) before they reached the market.
Some opportunistic buyers purchased GPU stocks in bulk as soon as they reached the market to take advantage of the supply shortage and sell these GPUs at double or triple the MSRP. Therefore, gamers could not access reasonable priced GPUs, forcing some retailers to package GPUs with other electronic purchases or limit the number of GPUs sold to each customer to two or three, as suggested by NVIDIA. However, these efforts had little impact on GPU prices, as retailers are not obligated to follow NVIDIA's instructions. The crypto boom could have a long-term impact on NVIDIA's and AMD's gaming business as well, which we'll discuss in the next part.