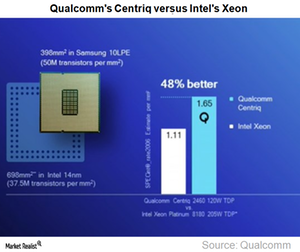 Qualcomm Challenges Intel in the PC and Server Chip Markets
By Puja Tayal

Updated
Qualcomm challenges Intel
In the previous part of this series, we saw that Intel (INTC) is posing tough competition to Qualcomm (QCOM) by accelerating its efforts in the baseband modem space. As Intel is entering Qualcomm's area of expertise, Qualcomm is entering Intel's area of expertise by launching an ARM-based server and mobile PC processors.
Article continues below advertisement
Qualcomm's server processors 
In 2017, Qualcomm launched its ARM-based, 48-core Centriq server processor for cloud applications. Unlike the mobile market, the server market has a higher ASP (average selling price) and lower volumes, which could lead to better profit margins. Qualcomm's Centriq chips sell at $1,995, and its mobile chipsets sell for less than $50.
Qualcomm (QCOM) is working to gain some share in the server processor market, which is dominated by Intel's 99% market share. It has also received interest from cloud companies that are searching for a competitive alternative to Intel chips.
This appears to be a good time for Qualcomm to enter the market, as Intel's server chips are exposed to the security risks of the Spectre and Meltdown exploits. However, Qualcomm's chips are only exposed to Spectre. These exploits are chip design flaws that allow applications to access confidential data.
Because Meltdown is easier to exploit than Spectre, Intel's chips are more exposed to a potential security breach than are Qualcomm's chips.
Article continues below advertisement
Qualcomm inside laptops
Qualcomm (QCOM) has also tapped the PC market in collaboration with Microsoft (MSFT). The companies unveiled Microsoft's Windows 10 laptop powered by Qualcomm's ARM-based Snapdragon 835 processor. These laptops were manufactured by HP Inc. (HPQ), Lenovo, and Asus.
These laptops are different than those powered by Intel because the ARM processors allow them to remain "always on" and always connected to LTE (long-term evolution) connections, similar to mobile phones.
Microsoft has worked to allow these ARM-powered laptops to support 32-bit Windows apps. However, these laptops have yet to support 64-bit Windows apps. Plus, they don't support apps that use kernel-mode drivers such as third-party antivirus software and games using anti-cheat software. Apps such as Photoshop, Office, and Chrome are expected to run smoothly on these laptops.
Next, we'll look at the other adjacent markets in which Qualcomm is expanding.