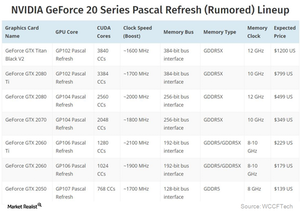 NVIDIA's GeForce GTX 20 Series: Reading the Rumors
By Puja Tayal

Feb. 22 2018, Updated 7:49 a.m. ET
NVDA's GeForce GTX 20 series
NVIDIA (NVDA) has been leveraging its Pascal GPU (graphics processing unit) architecture for two years, and it appears to be time for the company to move to a new architecture. It moved to its next-generation Volta architecture in the data center space in 2017.
This created excitement among tech enthusiasts that the company would launch a consumer version of Volta GPUs in 2018. However, no such announcement was made by NVIDIA. This led to other rumors about NVIDIA's new GTX 20 series GPUs.
According to rumors reported by German website 3D Center, NVIDIA might release its GeForce GTX 2080 GPU on its Ampere architecture, which is a refresh to Pascal architecture.
Article continues below advertisement
The website stated that NVIDIA would replace the GP102 chip used in GTX 1080 Ti and Titan X with the GA104 GPU in the Ampere architecture. The website claims that TSMC (TSM) has stopped manufacturing GP102, which means NVIDIA would no longer manufacture GTX 1080 Ti and Titan X to make way for GTX 20 series.
Rumors also stated that the Ampere would be built on Samsung's (SSNLF) 14 nm (nanometer) node.
Would the rumored GTX 20 series have crypto mining feature?
After cryptocurrency miners ate up the gaming GPU inventory, leaving gamers deprived of NVIDIA's GPUs, many articles suggested that NVIDIA put a GPU-level crypto mining ban on its new GTX 2080 GPU. This means the GTX 208 GPUs would not be able to mine cryptocurrencies.
A TweakTown article suggested that NVIDIA could put a GPU-level crypto mining ban on the GTX 20 series for six to 12 months. This way, people who wanted to mine and play games could buy the GTX 10 series, and gamers could get access to the GTX 20 series. After a year, when the GTX 10 series is sold out, NVIDIA could lift the mining ban from GTX 20 series.
The article also suggested that NVIDIA could also offer a service wherein miners would have to pay an amount to unlock the GPU for mining. This way, NVIDIA could protect gamers from artificially inflated GPU prices because of a supply shortage.
Launch schedule
The rumors stated that NVIDIA would unveil the first GPU in the Ampere family, GTX 2080 and GTX 2070, at the GTX 2018 (GPU Technology Conference) to be held in March 2018. It was supposed to launch the Ampere family in April 2018, according to the rumors. This would follow the launch of the GTX 2060 and Titan cards later in 2018.
But it's important to note that these are just rumors, and NVIDIA has made no announcement of any refreshed gaming GPUs. In fact, NVIDIA chief executive officer Jensen Huang, at the fiscal 4Q18 earnings call highlighted that the company's Pascal GPU is widely popular, which has suggested to many that a launch of a refresh unlikely.
Next, we'll look at the rumors surrounding NVIDIA's Max Q GPU technology.